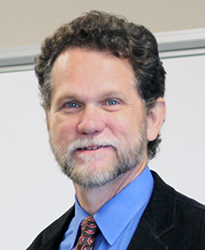 "I'm ready to serve God's greater purpose as a steward of the college. Together we shall pursue excellence with a servant's heart." - Dr. Peter A. Bell
(PRWEB) February 24, 2017
Dr. Ronald E. Hawkins, vice president for academic affairs and provost of Liberty University, has officially announced the appointment of Peter A. Bell, DO, MBA, HPF, FACOEP-dist., FACEP, as the new dean of Liberty University College of Osteopathic Medicine (LUCOM), beginning April 10. Dr. Bell comes to Liberty from the Ohio University Heritage College of Osteopathic Medicine (OU-HCOM), where he has most recently served as assistant dean for undergraduate and graduate medical education.
"I believe that Dr. Bell incarnates all of the traits that I envisioned finding in a new dean for Liberty University College of Osteopathic Medicine," Hawkins said. "He combines a passion for osteopathic medicine with the depth of experience, knowledge, and spiritual sensitivity required for leading LUCOM forward into what I believe will be a very bright future."
Joining him in Lynchburg will be his wife, Irene, a seasoned attorney, financial planning expert, and super mom to many.
"I'm ready to serve God's greater purpose as a steward of the college," Bell said. "Together we shall pursue excellence with a servant's heart."
Bell is a graduate of Hamilton College and obtained his osteopathic medical degree from the University of New England College of Osteopathic Medicine. He earned his M.B.A. from Ohio University College of Business. He is board-certified in both family medicine and emergency medicine. After completing his residencies, Bell began his first staff appointment as the medical director of the Emergency Department at Doctors Hospital, Columbus, Ohio. No stranger to academic leadership, Bell established the Emergency Medicine Residence at Doctors Hospital in 1991. He became a full-time assistant dean at OU-HCOM in 1995. From 2002 to 2006, he was a residency program inspector for the American Osteopathic Association (AOA). Bell was appointed clinical professor of Emergency Medicine in 2002 and awarded the distinction of Master Clinical Faculty in 2010. For the past seven years, he has been an active committee member for the National Board of Osteopathic Medical Examiners.
Dr. Bell has been recognized for his outstanding contributions throughout his academic and medical career. He has received the Meritorious Service Award as a Pioneer in Emergency Medicine from Doctors Hospital; the National Teaching Faculty Award from the American College of Emergency Physicians (ACEP); and the William I. Linder, DO, Advocate Award from the Columbus Osteopathic Association. He also received the Lifetime Achievement Award for his contributions to emergency medicine from the American College of Osteopathic Emergency Physicians (ACOEP). Bell has completed the National Health Policy Fellowship, a certificate program in health policy coordinated by the AOA and OU-HCOM. The Fellowship is a yearlong leadership training program designed for osteopathic physicians to further their skills in analyzing and implementing health policies on the local, state, and national levels with the purpose of increasing access to affordable, quality health care.
Dr. Bell has served in many national leadership positions, including president of the Ohio Osteopathic Association (OOA) in 2002 and 2003, president of ACEP (OH-chapter) in 2005 and 2006, and most recently as president of the ACOEP in 2006 and 2008. He continues to serve on a variety of state and national bureaus as well as political committees. Currently, Dr. Bell is serving as Chair of the Board for the Centers of Osteopathic Research and Education (CORE) at OU-HCOM.
In commenting on Bell's decision to join Liberty University, President Jerry Falwell said, "Liberty University College of Osteopathic Medicine is proud to welcome Dr. Peter Bell as its second dean. We believe Dr. Bell is uniquely qualified as an educator and an innovator to lead LUCOM at this critical juncture in the young college's existence."
Interim LUCOM Dean Dr. David Klink said, "Everyone at LUCOM is very excited about Dr. Bell becoming the new dean. I think that God has uniquely prepared him for this role. His experience, educational background, and spiritual depth will enable him to lead the college to achieve great things for our students, their future patients, and God's glory."
About Liberty University 
Liberty University, founded in 1971, is the largest private, nonprofit university in the nation, the largest university in Virginia, and the largest Christian university in the world. Located near the Blue Ridge Mountains on more than 7,000 acres in Lynchburg, Va., Liberty offers more than 500 unique programs of study from the associate to the doctoral level. More than 250 programs are offered online. Liberty's mission is to train Champions for Christ with the values, knowledge, and skills essential for impacting tomorrow's world.