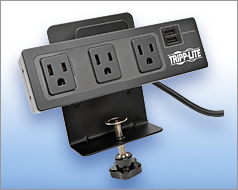 These new surge protectors address a need common to hospitality and service businesses
Chicago,IL (PRWEB) February 24, 2017
Tripp Lite, a world-leading manufacturer of power protection and connectivity solutions, has expanded its line of Protect It® surge protectors with models designed to make multiple outlets and USB charging ports easily accessible in public spaces, while retrofitting existing desks or tables.
The new surge protectors provide three or four NEMA 5-15R outlets (depending on model) and two USB charging ports, so several devices can be plugged in and charged simultaneously, safe from potentially damaging electrical surges and line noise. This multi-device capability makes these surge protectors ideal for locations such as reception areas, hotel rooms, dormitories, coffee shops, pubs and internet cafes.
Along with multi-port convenience, each of the new surge protectors can be mounted in place to an existing surface, keeping the surge protector where it is most needed and reducing the chance it will be removed.
New Surge Protectors
Learn More
Download Product Images
Key Features of Tripp Lite's New Surge Protectors
•Model TLP310USBC features three outlets and a clamp that attaches firmly to most desks, tables or other flat surfaces and has a top storage shelf to hold a smartphone-sized device; it provides 510 joules of protection against surges and 3.1A of USB charging power
•The TLP310USBS also has three outlets and can be mounted permanently on top of a surface, under the surface or flush-mounted in a cutout; this model also features 510 joules of surge suppression and 3.1A for USB charging
•The four-outlet TLP410DMUSB features a unique design that can be installed in a desktop or tabletop grommet hole measuring 2.4 in. (60 mm) wide; it then can be pushed down into the grommet hole when not in use and easily pulled up and onto the surface for connection of equipment; this model provides 1500 joules of surge protection and 2.4A for USB charging
"These new surge protectors address a need common to hospitality and service businesses," said Karenann Brow, Tripp Lite Director of Product Marketing. "The easy mounting features of the units keep USB ports and outlets accessible, while the affordable price points make it possible to retrofit virtually any indoor environment."
For more information about Tripp Lite's complete line of Protect It surge protectors:
Surge Protectors
About Tripp Lite
Outstanding product reliability and exceptional service have been Tripp Lite trademarks for over 90 years. Tripp Lite´s innovations include the world's first UPS system designed specifically for personal computers and the world's most trusted premium surge protector—the Isobar®—with more than 19 million in use. Tripp Lite maintains the highest level of ready-to-ship inventory in the industry with more than 3,500 different products, including UPS systems, rack systems and cooling solutions, PDUs, PowerAlert software for enterprise-level system management and control, surge protectors, KVM switches, cables and connectivity products, inverters, power strips and notebook accessories. Headquartered in Chicago, Illinois, Tripp Lite maintains a global presence with fully staffed offices worldwide. Additional information, including a list of Tripp Lite's sales offices and authorized reseller partners, can be found by visiting Tripp Lite's website: http://www.tripplite.com.