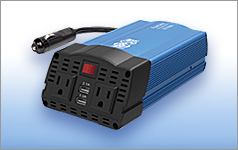 These go-anywhere inverters give salespeople, truckers, taxi drivers, vacationers, tailgaters and busy parents a reliable power source on the road,
Chicago, IL (PRWEB) February 24, 2017
Tripp Lite, a world-leading manufacturer of power protection and connectivity solutions, has expanded its line of PowerVerter® power inverters with two ultra-compact, yet sturdy, models that convert DC power from a vehicle's 12V auxiliary power socket to portable household AC power and USB charging.
The new power inverters allow users to charge and power multiple electronic devices on the go, such as smartphones, laptops, tablets, GPS units, DVD players, camping equipment and mobile office equipment using the battery power from a car, truck, boat or RV. Both models are encased in a durable metal housing engineered to withstand the rigors of road trips.
With plug-and-play ease of use, the inverters simply plug into any 12V CLA-style socket and are ready to operate. An on/off switch is conveniently located on the front of each unit, while automatic low-voltage shutoff prevents deep discharge of the vehicle's battery.
New Compact Inverters
Learn More
Download Product Images
Key Features of Tripp Lite's New Power Inverters

Model PV150USB provides 150 watts of continuous power via one NEMA 5-15R outlet, a 2.1A USB charging port and a 1.0A USB port; model PV375USB provides 375 watts of continuous power, two 5-15R outlets, a 2.1A USB port and a 1.0A USB port
Each model features a 3 ft. cord, allowing the inverter to power devices in the back seat
A built-in ventilation fan keeps the inverter cool during extended use
Model PV375USB includes alligator connectors for direct connection to a battery's DC terminals (recommended for applications requiring more than 200 watts of continuous output)
"These go-anywhere inverters give salespeople, truckers, taxi drivers, vacationers, tailgaters and busy parents a reliable power source on the road," said Karenann Brow, Tripp Lite Director of Product Marketing. "With USB ports as well as AC power, the new inverters are a great choice for anyone who needs standard household current on the go, with no special adapters needed."
For more information about Tripp Lite's complete line of ultra-compact PowerVerter power inverters:
Mobile Power Inverters
About Tripp Lite
Outstanding product reliability and exceptional service have been Tripp Lite trademarks for over 90 years. Tripp Lite´s innovations include the world's first UPS system designed specifically for personal computers and the world's most trusted premium surge protector—the Isobar®—with more than 19 million in use. Tripp Lite maintains the highest level of ready-to-ship inventory in the industry with more than 3,500 different products, including UPS systems, rack systems and cooling solutions, PDUs, PowerAlert software for enterprise-level system management and control, surge protectors, KVM switches, cables and connectivity products, inverters, power strips and notebook accessories. Headquartered in Chicago, Illinois, Tripp Lite maintains a global presence with fully staffed offices worldwide. Additional information, including a list of Tripp Lite's sales offices and authorized reseller partners, can be found by visiting Tripp Lite's website: http://www.tripplite.com.