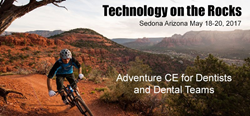 This event is perfect for the practice owner and team who are adventure-minded and want to build a stronger practice culture through intensive learning, team building, and mastery of the latest dental practice technology.
Sedona, AZ (PRWEB) February 25, 2017
On Thursday, May 18th, 2017 private practice dentists from across North America will be in Sedona, AZ, a short two-hour drive from Phoenix, to exercise both mind and body at the Technology On The Rocks 2017 (TOTR '17) Dental Marketing and Practice Technology Conference.
The ABC television program Good Morning America dubbed Sedona 'The Most Beautiful Place In America' and is one reason it was selected as the venue for TOTR '17.
Attendees will also have the option of riding some of the world's most spectacular bike trails.
Daniel A. 'Danny' Bobrow, MBA (finance), MBA (marketing) of AIM Dental Marketing and TOTR '17 co-host says "This event is perfect for the practice owner and team who are adventure-minded and want to build a stronger practice culture through intensive learning, team building, and mastery of the latest dental practice technology. Attendees will access the leading edge in practice management and marketing technology. Payoffs for attendees are greater efficiency, less stress, reduced risk, and accelerated new patient growth."
The other half of this dynamic duo is Larry Emmott, DDS, whose Emmott On Technology blog is considered 'must reading' for those in the dental space who wish to get and keep current on all matters related to practice efficiency through technology.
"The most valuable dental team member now and in the future will be the one who knows how to use and integrate the right technology – the key is in knowing where to look, and how to use it" says Dr. Emmott. "Management software, online e-services and even smart phone apps are now able to perform most of the practice management tasks people had to slog through every day. Not only will technology do the job, it will save the practice thousands of dollars, and free up dental team members to focus on patient communication and care." concludes Emmott.
Humbling Beginnings
The idea for TOTR '17 began when Emmott and Bobrow realized they shared two passions: their love of the outdoors, and helping dentists become more successful through the wise choice and use of technology.
"We met several years ago at a dental meeting. The two of us went on a hike, got lost, got back (eventually), and said 'We should do this again' sans the getting lost part." Says Bobrow.
The two decided to combine their interests and invite dentists and their teams to participate.
The result was TOTR '17.
What's New
Attendees at TOTR '17 will, over the three days and twelve hours of lecture, learn to use the Internet in new ways to attract more new patients, build their patient referral network and, in other ways, make more money.
"E-services and the idea of paperless digital workflow are not new – what is new and required is an understanding of how to fully benefit from the transition. That's what TOTR '17 will deliver. Technology used well has a huge ROI, Technology used poorly is a money pit." Says Emmott.
"Technology should not be the 'extra' we add to our business and clinical functions: it should be at the core of them all. The most valuable person in the office will and should be its Practice Technologist." Concludes Emmott.
Immunize Against Attack
Technology will only grow in importance as a key factor in private dental practice growth and prosperity. Similarly, cyber security threats mean the time to arm oneself with the knowledge and weapons to defend against attacks and data breach is now. Reports of data being held for ransom, and sensitive personal and financial data being compromised are becoming commonplace. These looming threats can literally shut down a practice, and even when they do not, can lead to exorbitant fines and other penalties. TOTR '17 attendees will be shown the tools to minimize these threats, to protect themselves against data breaches and penalties for HIPAA violations.
Beat Corporate Dentistry At Its Own Game
For the savvy dental practice owner, technology represents an opportunity to level the playing field vis a vis Corporate Dentistry. These firms are already using technology to gain a competitive edge in their quest to squeeze out private practice. The same technology offers solo and group practices a cost-effective means to Immunize against inroads from Corporate Dentistry by 'beating them at their own game.'
TOTR '17 will demonstrate those tasks, which can be more cost-effectively performed by proper use of dental technology: e-services: phone reminders, payment acceptance, accessing charts, patient re-activation, chart documentation, benefits eligibility, HIPAA-compliant and digitally signed online patient forms, and data entry, all of which mean more time to devote to patient care and communication.
TOTR '17 is a unique opportunity to harness the power of social media and other online marketing opportunities, such as do it yourself video for SEO, which help make a dental practice's website 'pop.'
A select group of dental technology firms will be invited to underwrite the Event, adding even more value to those in attendance.
For these reasons and more, those wishing to become more successful by leveraging the power and potential of dental technology will want to add this event to the top of their list.
TOTR '17 will be held at The Hampton Inn Conference Room Thursday thru Saturday from 1:00 to 5:00 pm. The morning will be free for golfing, biking, shopping and other activities. The organizers have designed the Event as a 'vacation and learning experience.' You can arrive early for some sightseeing, spend three days Thursday to Saturday at the meeting and still have several days before or after to extend your trip to the Grand Canyon, Flagstaff, Scottsdale or any of the other great vacation destinations Arizona offers.
TOTR '17 will, in easy to understand language with equally simple to follow steps, demystify the means to cost-effectively optimize one's website and deliver the messaging discerning patients seek in choosing a dentist for themselves and their family. To learn more, Visit The TOTR '17 Site
TOTR '17 FAQs
Activities: Each morning it will be cool and beautiful; the mountain biking group will go for a two to three-hour ride led by Larry and Danny. If you aren't a biker there are many other activities to choose from. These include golfing, hiking, back country jeep tours, balloon or helicopter rides, exploring ancient Indian dwellings, swimming at slide rock in Oak Creek Canyon, new age vortex centers, and fantastic shopping or gallery hopping.
Weather: Sedona is at 4500 ft. elevation. It is the transition zone from high desert chaparral to juniper forest. The average temperature in May is 72 degrees F. However, in the mornings it will be cooler and we will spend the hot afternoons inside meeting. Rain is very unlikely but possible in the afternoons.
Mountain Biking: Sedona is an amazing mountain biking experience. Each morning Danny and Dr. Emmott will lead a group of mountain bikers on a ride on one of the area's best trails. We promise a great adventure with awesome trails, however, this adventure is not for beginners. To get the most from the experience we advise you have some off-road biking experience and be in reasonable physical condition. However, you don't need to be an expert either.
More Info: http://www.americandentalmarketing.com/technology-on-the-rocks/