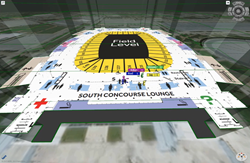 Greenbelt, Maryland (PRWEB) February 27, 2017
TRX Systems, developer of the NEON® Indoor Location Solution, today announced that the NEON Personnel Tracker application was used by the Houston Police to help ensure public safety in NRG Stadium for Super Bowl LI.
NEON Personnel Tracker delivers mapping and location in environments where GPS is unavailable or unreliable such as inside large office buildings, in stadiums and underground. By delivering location in these "GPS-denied" environments, NEON improves both command effectiveness and safety for public safety and security personnel. NEON Personnel Tracker delivers location in both 2D and 3D and provides tracking and visualization of personnel in complex indoor and outdoor environments. Accurate tracking is accomplished using NEON's patented location algorithms which leverage all available device sensors including inertial, magnetic, pressure, light, Bluetooth, Wi-Fi and GPS signals (where available) to calculate location.
Working closely with Harris County Central Technology Services and the Houston Police, TRX deployed NEON Personnel Tracker in a solution integrated with the Motorola LEX L10 Mission Critical LTE Handhelds. The NEON solution on the LEX L10 utilized the Harris County Public Safety Broadband network at NRG Park where each officer carrying the LEX L10 with the NEON application was able to be tracked in 3D from the command center throughout the nearly 2 million square feet of NRG Stadium. With real-time 3D visualization of first responder locations inside buildings, police and other first responders have improved situational awareness that helps ensure public safety. A short video showing TRX Systems' NEON Personnel Tracker at NRG Stadium can be found here.
"Public Safety LTE is a reality and happening right here in Texas. Harris County is committed to enhancing public safety through the use of leading edge technology," said Shing Lin, Director Harris County CTS. "Applications enabled by Public Safety LTE networks are part of our continuing investment to safeguard the public and effectively manage our resources at major public events such as the Super Bowl."
About TRX Systems
TRX Systems is the developer of the NEON® Indoor Location Solution, delivering location and mapping indoors, underground and in dense urban areas where GPS is not available or is unreliable. NEON delivers ubiquitous, low-cost, 3D indoor location through the use of advanced sensor fusion, ranging, and patented dynamic mapping algorithms.
NEON Personnel Tracker is designed to meet the location and tracking needs of public safety personnel who often operate in buildings not under their own control and industrial personnel who operate in buildings that are difficult to instrument and network. Benefits include:

Seamless tracking and the highest level of situational awareness
Easy to use, rapid to deploy solution supporting a broad set of use cases
Real-time and after-action 3D visualization of individuals and teams
TRX Systems is the recipient of the 2015 Silver Edison Award for innovation in the Navigation and Robotics category, the Tibbetts Award given by the U.S. Small Business Administration for innovation and economic impact of research and development, the TEDCO ICE Award for Corporate Excellence and the Innovator Award from the Chesapeake Regional Tech Counsel (CRTC). TRX's indoor location software development has been supported by the National Science Foundation, the Defense Advanced Research Projects Agency (DARPA), the U.S. Army and the Department of Homeland Security.
For more information, visit http://www.trxsystems.com.