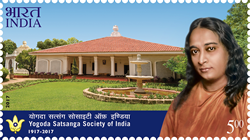 What [Paramahansa Yogananda] has given to the world, what he has achieved in his life, very few can achieve.
Los Angeles, CA (PRWEB) March 08, 2017
India Prime Minister Narendra Modi paid tribute to Paramahansa Yogananda – on the 65th anniversary of his passing on March 7, 1952 – by issuing a commemorative postage stamp in honor of the 100th anniversary of Yogoda Satsanga Society of India (YSS), the non-profit spiritual organization he founded on March 22, 1917. Three years later, Sri Yogananda traveled to the West and established, Self-Realization Fellowship (SRF). SRF and YSS together have more than 800 temples, centers, and ashrams around the world today.
Paramahansa Yogananda – the author of the best-selling classic "Autobiography of a Yogi" and the subject of the award-winning documentary "Awake: The Life of Yogananda" – is widely regarded as the father of Yoga in the West. On the occasion of the 25th anniversary of Paramahansaji's passing in 1977, the Government of India issued a commemorative stamp in his honor, and stated: "Though the major part of his life was spent outside India, still Paramahansa Yogananda takes his place among our great saints. His work continues to grow and shine ever more brightly, drawing people everywhere on the path of the pilgrimage of Spirit.
Citing the outstanding spiritual achievements of Yogoda Satsanga Society and its founder Paramahansa Yogananda, India Prime Minister Narendra Modi stated during the official postal stamp release function on March 7 at the Vigyan Bhavan in New Delhi: "Looking at [Paramahansa Yogananda's] life, it is evident that he does not merely stress the ways to outer freedom, but focuses on the inner journey….Removing rigid dogma, he made spirituality so approachable and tangible that in these hundred years since he started it, his work has become a world-wide movement, a perennial resource of spiritual understanding."
Swami Smaranananda, General Secretary of Yogoda Satsanga Society of India, spoke about some of the contributions that Sri Yogananda's organization has made over the century, and said, "In faithfully safeguarding and carrying forward the 100-year-old legacy of Paramahansa Yoganandaji, YSS is dedicated to continuing to bring peace and light into the lives of millions struggling with the challenges of the modern world, thus serving mankind as our larger Self."
A message from SRF/YSS President and Sanghamata Sri Mrinalini Mata was presented by Swami Vishwananda, a member of the SRF/YSS Board of Directors based at the international headquarters in Los Angeles, which included the following closing words: "Paramahansa Yoganandaji predicted that an ideal world civilization will emerge by combining the spirituality of India with the material efficiency of western nations. India therefore has an important and necessary role to play in helping elevate human consciousness in its upward evolutionary cycle. It is my ardent prayer that through the practice of the unity-bestowing spiritual teachings exemplified by Sri Sri Yoganandaji and other great masters of India we may move toward an era of global peace, divine harmony, and prosperity for every member of our human family."
Early History of YSS in India
Inaugurated on March 22, 1917 as the Yogoda Satsanga Brahmacharya Vidyalala, Yogoda Satsanga Society began as a one-story school in the West Bengal town of Dihika, India, with only a few teachers and seven students at its inception. Yogoda, a word coined by Sri Yogananda, is derived from Yoga, union, harmony, equilibrium; and da, "that which imparts." "Satsanga" is composed of Sat, truth and Sanga, fellowship.
The founding of this school marked the beginning of Paramahansa Yogananda's lifelong work and world mission, which has as one of its aims to foster a spirit of greater understanding and goodwill among the diverse peoples and religions of the world, and to help those of all cultures and nationalities to realize and express more fully in their lives the beauty, nobility, and divinity of the human spirit.
In his "Autobiography of a Yogi," Sri Yogananda writes: "The ideal of right education for youth had always been very close to my heart. I saw clearly the arid results of ordinary instruction, aimed at the development of body and intellect only. Moral and spiritual values, without whose appreciation no man can approach happiness, were yet lacking in the formal curriculum. I determined to found a school where young boys could develop to the full stature of manhood. My first step in that direction was made with seven children at Dihika, a small country site in Bengal."
Initially reluctant to formally establish an organization, Sri Yogananda was prodded by his guru, Swami Sri Yukteswar, from whom he received 10 years of spiritual training, to create a spiritual society that would serve mankind. In "Autobiography of a Yogi," Yogananda recalls Sri Yukteswar's words: "Do you want the whole divine channa for yourself alone? God is the Honey, organizations are the hives; both are necessary. Any form is useless, of course without the spirit, but why should you not start busy hives full of the spiritual nectar?"
As his initial Yogoda school rapidly expanded, it was moved in 1918 to Ranchi with the financial support of Sir Manindra Chandra Nundy, the Maharaja of Kasimbazar. By the end of the first year in Ranchi, applications for admission had grown to 2,000. The school offered a curriculum that comprised academics, physical education, and the philosophy of yoga and its scientific techniques of meditation.
Shortly after the founding of his school in Ranchi, Yogananda was invited by India's beloved poet and Nobel Laureate Rabindrinath Tagore to visit with him at his school, Santiniketan, to share their educational ideals. At the time of his writing "Autobiography of a Yogi," the Ranchi school had been honored by visits from many highly revered individuals, ranging from Swami Pranabananda (the Banaras "saint with two bodies") to Mahatma Gandhi.
In 1920, Sri Yogananda traveled to the U.S. as the invited delegate representing India to an International Congress of Religious Liberals convening in Boston, where he delivered a speech on "The Science of Religion," and established Self-Realization Fellowship that same year, the first Hindu teacher of yoga to make America his permanent home (from 1920 until his passing in 1952). His line of gurus had foreseen that he would be the one to go to the West to spread the ancient teachings of Kriya Yoga, which includes a sacred technique of meditation that serves to quiet both body and mind, and through devoted practice leads to realization of God.
After spending several years on the East Coast, Sri Yogananda realized that expansion of his work was meant to develop from another part of the country, and, thus, he set off for California. When in 1925 he reached Los Angeles, which he often described as the "Banaras of the West" (Banaras being India's holiest city), he was enthusiastically received. The "Los Angeles Times" reported: "The Philharmonic Auditorium presents the extraordinary spectacle of thousands…being turned away an hour before the advertised opening of a lecture with the 3,000 seat hall filled to its utmost capacity. Swami Yogananda is the attraction. A Hindu invading the United States to bring God in the midst of a Christian community, preaching the essence of Christian doctrine."
With the help of generous students, he established that same year the SRF/YSS International Headquarters atop Mount Washington, overlooking downtown Los Angeles, which continues to serve as the worldwide headquarters for the society today.
During the 1920s and '30s, Sri Yogananda undertook numerous transcontinental journeys throughout the U.S., giving lectures on the science of yoga and inspiring thousands of western spiritual seekers with teachings that included underlying truths between the original Christianity of Jesus Christ and the original Yoga of Bhagavan Krishna. In 1927, he became the first Hindu swami to be received at the White House, meeting with President Calvin Coolidge. During his one return trip to India in 1935, he met with Mahatma Gandhi, at whose request Sri Yogananda initiated into Kriya. Upon reuniting there with his guru, Swami Sri Yukteswar, Sri Yogananda received the highest spiritual title of Paramahansa, superceding his former title of swami.
Self-Realization Fellowship/Yogoda Satsanga Society Today
Under the direction of the society's president, Sri Mrinalini Mata, SRF/YSS publishes the writings, lectures, and informal talks of Paramahansa Yogananda, and of his close disciples; produces audio and video recordings on Yogananda's teachings; oversees its temples, meditation centers, retreats, and youth programs; conducts annual lecture and class series in cities around the world; and coordinates the Worldwide Prayer Circle, a network of groups and individuals dedicated to praying for those in need of physical, mental, or spiritual aid, and for global peace and harmony.
The SRF/YSS monastic order that Sri Yogananda established along the lines of the ancient swami tradition of India, consists of monks and nuns who take formal vows of renunciation and are responsible for serving the spiritual needs of members, friends and spiritual seekers around the globe.
SRF has more than 600 temples, retreats and meditation centers around the world. Its sister organization, YSS, has 23 YSS schools throughout India; more than 200 YSS ashrams, retreats, and centers (offering weekly services, group meditations, and other inspirational programs); and a number of YSS charitable medical dispensaries. The headquarters of YSS, Yogoda Satsanga Math, is in Dakshineswar, near Kolkata, with a branch headquarters at Ranchi.
The teachings of Sri Yogananda are made available, today as during his lifetime, through the printed SRF Lessons. These nonsectarian teachings embody a complete philosophy and way of life for achieving all-round success and well-being, as well as scientific techniques of meditation achieving life's ultimate goal — union of the soul with Spirit, Self-realization. This comprehensive home-study series — studied by many thousands of people all over the world — gives instruction in the meditation techniques of the Kriya Yoga science, as well as in the many other aspects of balanced spiritual living taught by Paramahansa Yogananda. For more information for those who reside in India, Bangladesh, Bhutan, Maldives, Nepal, and Sri Lanka, please visit https://yssofindia.org. For residents in all other parts of the world, please visit Yogananda-srf.org.
Please visit Youtube to view Prime Minister Modi's release of the YSS Centenary Commemorative Stamp.