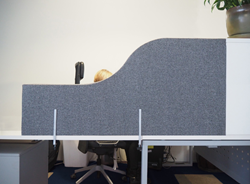 Our office space has improved considerably with Work Forts. The privacy panels dampen sound and provide some visual boundaries for our employees.
(PRWEB) February 27, 2017
Versare Solutions has added to its lineup of office partitions and sound panels with a new series of desktop privacy partitions. Work Forts are a configurable solution to office privacy issues and allow employees to boost productivity and focus by eliminating distractions. These made-in-the-USA desktop privacy panels create a customized workspace in a variety of situations: dividing up cubicles, dampening sound in a shared workspace, or creating an impromptu call center. Work Forts are available in three shapes—square, rectangle, and wave to accommodate desks and workstations of varying sizes and shapes. Over 20 acoustical fabric options allow easy integration within office or classroom environments.
Made in the USA of non-toxic materials, Work Forts are an environmentally-friendly office space solution. Unlike common sound panels, which feature toxic fiberglass foam cores for sound control, Work Forts use a 20mm 2000 gram, 100% recyclable, nonwoven acoustical polyester, which provides superior noise-reduction qualities and will not off-gas. The acoustical fabric outer layer accepts pushpins and thumbtacks for easy signage display. Included brackets allow Work Forts to quickly attach to the underside edge of virtually any desk or table. The adjustable bracket can accommodate a variety of tabletop depths.
Work Forts enhance employee concentration and productivity by inhibiting sound and providing desktop privacy. And they won't completely impair visibility, maintaining the collaborative nature of open-concept workplaces. Work Forts provide an ideal solution to multiple situations—from a new business with room to spare or a cramped business looking for a bigger space, or even a study space in a library or classroom. The affordable price point allows startups and small businesses to control space and dampen sound on a budget.
Work Forts, like many Versare privacy panels, are made in the USA, include a three-year warranty, and ship for free within the Contiguous United States. Work Forts Desktop Privacy Panels can be purchased online at Versare.com.
About Versare:
Versare Solutions LLC. is a Minneapolis-based manufacturer and retailer of portable room dividers, privacy screens, sound panels, portable barricades, and other space-saving products. Versare handles the manufacturing and shipping of all products directly from their Minneapolis headquarters, with most products being custom-built in the USA. Co-founders Robert Jantschek & Jeff Ryan initially created the company to offer a more lightweight, durable, and sturdy room divider than what had previously been found on the market. Their selection of products has grown over the years to include a wide array of portable barricades, configurable office cubicle partitions, economical fabric dividers, and outdoor wicker privacy screens.