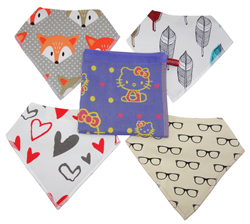 "It feels like if my little one could talk he would say, "these bibs are a great fashion accessory, but more importantly their comfortable and keep me dry".
New York, New York (PRWEB) February 26, 2017
LatitudeC Baby Products, an innovative manufacturer of luxury baby products for wholesale distribution in North America, today announced it would be offering some it's exclusive product line to the public through well established online sites. The company, which prides itself on crafting quality and unique baby clothing/feeding products, will team up with AMAZON to distribute a limited number of its premium products to the public, at discounted prices.
"We are thrilled to partner with AMAZON and showcase our products directly to the end consumer", says LatitudeC Co-Founder, Anthony Filipovich. "It's time for us to go directly to the end consumer so they can witness first hand our passion and dedication to making quality baby products. It's an honor to be of service to parents all over America."
LatitudeC started the association with AMAZON in January of 2017 by selling a well-received set of 4 Premium Bandana Bibs (with FREE Burp Cloth) that earned top ratings in the first four weeks ( https://www.amazon.com/dp/B01N06OVXC ).
LatitudeC will be selling its second product, a 5-in-1 Baby Car Seat and Breastfeeding Cover, on AMAZON in late February of 2017 ( https://www.amazon.com/dp/B01N3TQQQ4 ).
Anthony Filipovich, Co-Founder of LatitudeC had this to say, "We are delighted with our AMAZON partnership and look forward to listing additional luxury baby products. There is a synergy with AMAZON that we feel will result in great value for parents across America".
To learn more about the LatitudeC, contact Fatima Melo at Fatima(at)LatitudeC(dot)com or visit the website at http://www.LatitudeC.com.
About LatitudeC
LatitudeC is an innovative designer and manufacturer of baby products. We love crafting unique baby products because we feel that the human spirit has suffered due to the shift from craftsmanship to mass production. We do this by valuing everyone we come into contact with, from our employees, to our partners and customers. We are attempting to make the world a better place by practicing new ways to do business, ways that honor the human spirit.