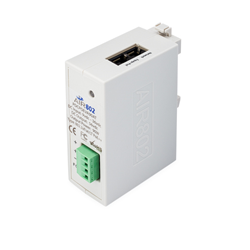 The wide range of input options allows this device to be used on 12, 24 or 36 vdc input options supporting legacy 802.3af, 802.3at and now high power to 90 watts.
Aurora, Illinois (PRWEB) February 26, 2017
AIR802 announces the world's first DC to DC converter with IEEE 802.3af, 802.3at and high power up to 90 watt power-over-Ethernet (PoE) 56 vdc output, Gigabit throughput, and uniquely with a 9 to 36 vdc input range in this new model, PDCPOEVA90AT.
Networking devices powered by PoE are increasingly located in remote locations such as power poles, vehicles, trains, marine vessels, construction equipment and even farm tractors. The available input sources range from solar panels to vehicle batteries and dedicated power plants. This new model encompasses all of the requirements, whether a 12 vdc, 24 vdc or 36vdc input through our design of 9 to 36 vdc input range. Networking devices with ever increasing power requirements require a universal device that can power current and future device needs. This model is compliant with IEEE 802.3af, 802.3at and meets even the most power hungry security surveillance camera requirements with 90 watts of power availability.
Additional design factors include DIN rail mounting, anti-noise circuitry for use in vehicles and a support for a very broad range of temperatures. It is RoHS compliant.
This new DC-DC converter is being released at the World Mobile Congress in Barcelona, Spain from February 27th through March 2nd.