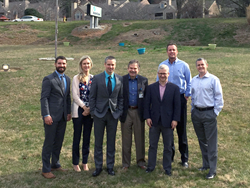 Asheville, North Carolina (PRWEB) February 27, 2017
Aeroflow Healthcare's executive team and Mom and Baby Division met with Congressman Patrick McHenry to discuss the repeal/ replacement of the Affordable Care Act. The hour-long meeting with Congressman McHenry focused on the importance of protecting Women's Preventive Care services, specifically breastfeeding support for mothers. These services benefit the health of infants and their mothers and are also beneficial to the American taxpayer.
Congressman McHenry briefed the Aeroflow team on the current status of the Affordable Care Act and offered his support that women's health should be a protected and valued element of our healthcare system. There is no promise to this, yet Congressmen McHenry expressed his confidence in Aeroflow's advocacy and marketing efforts to local and federal government officials.
Aeroflow Healthcare is a Durable Medical Equipment (DME) provider specializing in helping pregnant and nursing women access lactation support, supplies, and services. The company works closely with mothers to provide exceptional support for breastfeeding health benefits. Aeroflow plans to continue their efforts to protect and promote women's health services for mothers nationwide.
To learn more about Aeroflow's advocacy efforts for Women's Preventative Care, visit aeroflowinc.com/womens-preventative-care.
Aeroflow Healthcare was founded Asheville, NC in 2001 as a home oxygen provider and has since grown to become one of the leading durable medical equipment providers nationwide. Aeroflow is an accredited Medicare and Medicaid provider and accepts most commercial insurances. To learn more, visit aeroflowinc.com.