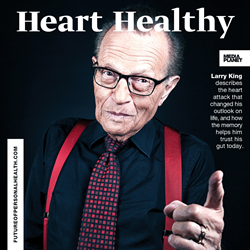 If you think what you are doing is wrong, you're right. Pay attention to pain — don't dismiss it. Get checkups regularly. You only go around once.
New York, NY (PRWEB) February 24, 2017
This American Heart Month, Mediaplanet has been working to raise awareness about the perils of cardiovascular disease. From prevention to diagnosis and treatment, the "Heart Healthy" campaign seeks to educate patients and healthcare professionals alike on a variety of cutting-edge topics, such as 3-D printing's applications in the field of cardiology and the Syrian refugee crisis. Mediaplanet's cardiovascular health campaign, found within USA Today and online, helps shed light on the leading cause of death in not only the United States, but the world at large.
Cardiovascular disease, CVD, is the number one killer of Americans today. Annually, upwards of $300 million is poured into research, education and therapies for cardiovascular disease. While this amount may seem costly, the monetary expense pales in comparison to the emotional cost of losing a loved one to preventable heart disease. Unfortunately, this pain is felt all too often by the loved ones of the roughly 610,000 individuals that die from cardiovascular disease each year. With over 84 million citizens living with heart disease, and half of the country at high-risk of developing CVD, everyone can stand to benefit from this impactful campaign's message.
The print component of "Heart Healthy" is distributed within today's edition of USA Today in New York, Philadelphia, North and South Florida, Dallas and Atlanta markets, with a circulation of approximately 250,000 copies and an estimated readership of 750,000. The digital component is distributed nationally, through a vast social media strategy, and across a network of top news sites and partner outlets. To explore the digital version of the campaign, click here.
Long-time cardiovascular disease activist and heart attack survivor Larry King gazes out at readers from the publication's cover. Mediaplanet's exclusive interview with King explores the long-time TV host's experience with heart failure, providing insight into the heart attack that rocked this late-night royalty's world. While it may have been 30 years since Larry King suffered his heart attack, he reflects on the unhealthy culprits and the aftermath of this medical emergency — which also claimed King's father in 1942 — as if it were yesterday.
"I shouldn't have been surprised," King says, "I had been a heavy smoker for many years," but the issue which required quadruple bypass surgery to remedy caught the newsroom giant off guard. Decades post hoc, Larry King's ability to turn his heart health with proper diet, exercise and medical consultation offers a ray of hope to those afflicted by CVD. Moreover, King's words offer a simple, yet honest piece of advice: "If you think what you are doing is wrong, you're right. Pay attention to pain — don't dismiss it. Get checkups regularly. You only go around once."
This campaign was made possible with the support of the American Heart Association, the American College of Cardiology, Cleveland Clinic, United Network for Organ Sharing, University of Chicago Hospital, Nicklaus Children's Clinic, Mended Hearts, Omron, iRhythm Technologies, Student National Pharmaceutical Association, Cleveland Heartlab, Tandem Life, True Health Diagnostics, MitoQ, CardioSmart, the Heart Rhythm Society and WomenHeart.