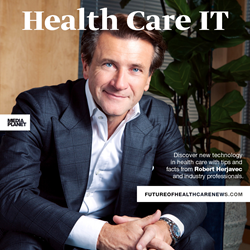 Security needs to be a top priority because it's not if you will be attacked, but when.
New York, NY (PRWEB) February 24, 2017
In the Health Care IT campaign, Robert Herjavec discusses health IT security and urges: "Security needs to be a top priority because it's not if you will be attacked, but when." However, he and many others involved highlight a promising future in online safety, especially when it comes to digital health care.
Improvements in auditing and monitoring have taken security in health care a very long way. By leveraging user behavior analytics and improved identity management tools, health care providers are better able to determine who has access to what data, when, for how long and why.
The print component of "Health Care IT" with distribution within USA Today, Boston, Chicago, New York, North Central Florida (FL), and Washington D.C/Baltimore has a total circulation of approximately 250,000 copies and an estimated readership of 750,000.
The digital component is being distributed nationally, through social media and across a network of top news sites and partner outlets. To explore the digital version of the campaign, click here.
This campaign was made possible with the support of HIMSS, CHIME, Robert Herjavec, Konica Minolta, FairWarning, Insight Enterprises, Akamai Technologies, RxAnte and more.
About Mediaplanet 
Mediaplanet is the leading independent publisher of content marketing campaigns covering a variety of topics and industries such as Health, Education, Lifestyle, Business and Technology, and Corporate Social Responsibility. We turn consumer interest into action by providing readers with motivational editorial, pairing it with relevant advertisers and distributing it within top newspapers and online platforms around the world. Please visit http://www.mediaplanet.com for more on who we are and what we do.