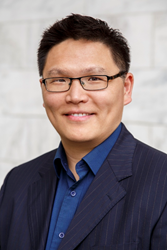 Wausau, WI (PRWEB) February 27, 2017
Bo Chen, PhD is the recipient of the 2017 ASLMS Dr. Horace Furumoto Innovations Young Investigator Award. Dr. Chen will receive his award during the Plenary Session at ASLMS 2017, the Annual Conference of the American Society for Laser Medicine & Surgery, Inc. (ASLMS), to be held in San Diego, California April 5-9, 2017.
During the Plenary Session on April 7, Dr. Chen will give his award presentation, "Objective Measurements in the Development of Aesthetic Treatments." He will provide an overview of tools and methods that have been employed in his research of novel medical treatments. Through his eye as a research scientist, Dr. Chen will provide insight on how a scientist approaches medical problems, and how he utilizes objective measurements to aid and guide the development of new therapeutic systems.
Dr. Chen is currently a principal scientist at Cynosure. He earned his BS and MS in physics from Tsinghua University, China and his PhD in biomedical engineering from the University of Texas at Austin in 2007, working with Professor A.J. Welch. During his time at Cynosure, he has been responsible for leading research and development projects for new medical applications, including minimally-invasive and non-invasive treatments of body fat, and minimally-invasive treatment of cellulite.
"I am so humbled to be chosen for this award by ASLMS. It inspires and motivates me to work even harder in innovating energy-based medical systems that can make a difference in the current standards of care," said Dr. Chen. "I have been so fortunate to have many wonderful mentors, collaborators, and colleagues who continue to support my career as a scientist and provide stimulating discussion and suggestions for my research. This accomplishment represents the collective effort of all of them."
Since 2008, the Dr. Horace Furumoto Innovations Young Investigator Award has recognized and encouraged the development of future technology innovators and leaders. It is given in memory of the genius, leadership, and commitment of Dr. Horace Furumoto, a pioneer in medical laser technology innovation.
"Having had the privilege to work for the company which was founded by Dr. Furumoto, I am inspired by his commitment to advance laser technology for medicine," said Chen. "I share Dr. Furumoto's passion of continuously pursuing new ideas to enhance patient care and bringing valuable ideas to commercial products."
The Annual Conference of the American Society for Laser Medicine & Surgery, Inc. is regarded as the top meeting for the exchange of information on the latest discoveries, applications and research involving medical lasers and energy based sources. 2017 marks the 37th year of the ASLMS Annual Conference. Visit http://www.aslms.org for more information.