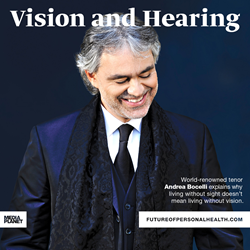 Millions of Americans and people worldwide struggle with vision and hearing disabilities.
(PRWEB) February 24, 2017
With millions of Americans and people worldwide struggling with vision and hearing disabilities, it is so critically important that we all are aware of our options and are empowered with strength and information throughout the year. That is why Mediaplanet is proud to announce the launch of its newest edition of "Vision and Hearing" in USA Today, that will educate readers on their vision and hearing health, by encouraging quality and innovative resources, technology, and care while aiding to maintain and improve quality of life.
"Without Glasses, a student may not be able to learn to their full potential and employees will be unable to perform at work," says Mony Iyer, executive director for OneSight. Similarly, Gail Richard, president of the ASHA, implores that "Hearing loss can negatively impact quality of life, mental health, physical health, and employment success and status."
The print component of "Vision and Health" is distributed within the weekend edition of USA TODAY, in the Los Angeles, Dallas, North Central Florida, Chicago, and Denver markets with a circulation of approximately 250,000 copies and an estimated readership of 750,000. Its digital component is distributed nationally, through a vast social media strategy, and across a network of top news sites and partner outlets. To explore the digital version of the campaign, CLICK HERE.
This campaign was made possible with the support of Andrea Bocelli, VSP, Connect Hearing, American Speech-Hearing-Language Association, American Optometric Association, Prevent Blindness, World Health Organization, Himalayan Cataract Project, Usher Syndrome Coalition, Wiley X, Connect Hearing, Hearing Health Foundation, Soledad O'Brien, MyEyeDr, OneSight, Serengeti, OCuSOFT, Solar Shield, ACI Alliance, and Lolo Jones.
About Mediaplanet 
Mediaplanet is the leading independent publisher of content marketing campaigns covering a variety of topics and industries such as Health, Education, Lifestyle, Business and Technology, and Corporate Social Responsibility. We turn consumer interest into action by providing readers with motivational editorial, pairing it with relevant advertisers and distributing it within top newspapers and online platforms around the world. Please visit http://www.mediaplanet.com for more on who we are and what we do.