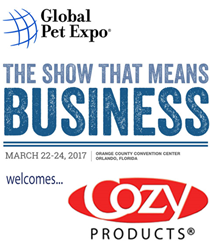 Chicago, IL (PRWEB) February 24, 2017
Cozy Products® will be displaying their latest product releases at the Global Pet Expo at the Orange County Convention Center in Orlando, Florida. The show takes place March 22-24, with buyer representative attendance from over seventy countries. Visit the Cozy Products® booth #5583 to meet specialists and learn more about energy-saving radiant heating panels.
With this new product release, Cozy Products® is focused on keeping pets comfortable and warm. It's important to keep animals body temperatures regulated in the cold winter months, especially pets that don't always fit into doggie-sweaters. The new Cozy Products® flat panel pet heaters offer a sleek, unobtrusive design that easily fits anywhere it's needed. Cozy Coop and Cozy Pet Warmer are ETL certified radiant heaters for chicken coops and indoor pets. An ETL certified Zero-Clearance product is allowed to be placed on or against combustible surfaces without causing a fire hazard or any harm to pets.
Cozy Products® radiant heat panels use only 200 watts of electricity – 87% less energy of a standard 1,500 watt space heater. Founded and based in Chicago, USA, Cozy Products® strives for a superior level of quality.
Cozy Products® is part of the Bird-X group of companies. For more information on these items, or any of the Cozy Products® diverse line, please call customer service at (800) 662-5021. Remember to visit Cozy Products® at booth #5583 at the Global Pet Expo next month.