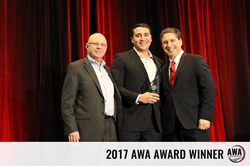 "We are honored to receive recognition from the Automotive Website Awards for Website Merchandising," says CEO Devin Daly. "This award is a true testament to the hard work and dedication of everyone on the SpinCar team."
New York, New York (PRWEB) March 02, 2017
SpinCar was recently honored with an Automotive Website Award in the category of Website Merchandising. During a ceremony before the 2017 NADA Convention in New Orleans, the Automotive Website Awards were presented to select vendors. Award recipients in the Website Merchandising category are recognized for continued commitment to helping dealers effectively showcase inventory online.
"We are honored to receive recognition from the Automotive Website Awards for Website Merchandising," says CEO Devin Daly. "This award is a true testament to the hard work and dedication of everyone on the SpinCar team."
AWA honored SpinCar because of its state-of-the-art merchandising solution that leverages proprietary technology to convey transparency and build trust with consumers shopping on a dealer's website. The platform automatically converts vehicle photographs into super-interactive, virtual reality enabled 360° displays with tagged, touchable hotspots for a guaranteed 10% lift in leads.
Technology and tools that dealers use to engage shoppers online continue to evolve, and SpinCar continues to lead the way in this innovation. Beyond the immersive experience for the customer, SpinCar's Mobile Capture App has substantial efficiency gains in the process of photographing and uploading inventory photos. A complete photo shoot can take less than three minutes while producing up to 200 photos, a live video, and a fully interactive interior and exterior spin. The backend of the platform intuitively allows dealers to manage inventory, create automated "hotspots" for specific features or faults of a vehicle, and gain next-level insights about consumer behavior. The 360-degree view is quickly published on any website for a potential customer to dive inside the vehicle.
About SpinCar:
SpinCar, based in New York City, is a comprehensive vehicle merchandising platform used by auto dealers in the U.S. and abroad, including several OEMs. SpinCar's mobile capture application increases photographer efficiency by 2X while guaranteeing photographic consistency and promoting higher inventory coverage. The SpinCar 360 WalkAround web display is proven to increase website dwell times and conversion rates by providing a more interactive consumer experience.