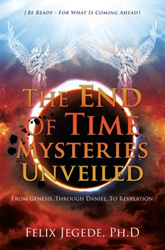 The coming events of the end time will affect every person and nation on earth
Katy, TX (PRWEB) February 28, 2017
Felix Jegede's new book, The End of Time Mysteries Unveiled ($23.49, paperback, 9781498494991; $9.99, eBook, 9781498495004) is a non-fiction guide that recounts the events to follow for the end times, presently happening, that will affect every person and every nation on earth, and what the author learned through visions from God. The book unveils the hidden mysteries of the coming end, providing detailed explanations and understanding, of what had been shrouded in the scriptures, over the ages until now, concerning events of the end. The author describes in simple language what he learns as he journeys with readers from Genesis through to Revelation, solving the prophecies, revelations, and mysteries of the earth's last days, verified with scripture verses and other references.
Jegede says, "The book is a non-fiction recount of the coming events of end time, as I learned through visions and revelations from God and verified through scriptures, and other references provided. The book is not about theology, doctrines or religion. The coming events of the end time will affect every person and nation on earth. The book is hence a valuable guide for everybody, the young and the old of all social classes, races, colors, and nations, regardless of their faith, belief, religion or no religious affiliations. It is an excellent study reference guide for individuals, families, groups, churches, and other organizations."
The author's background, training and practice in science and engineering, compels him to search and verify the truth about things. He considers himself as simply a messenger, not the author. He initiated nothing, receiving the visions, revelations, understanding, interpretation and direction as given to him by God, who is the true Author. He holds a Ph.D degree in Chemical Engineering. He lives in the suburb of Houston, Texas with his wife and four children. In the earlier part of his life, he spent almost equal amount of time in both Africa and Europe (the United Kingdom). He has also travelled extensively over the years to many countries in the other continents including Asia, Central and South America, Middle East and Australia.
Xulon Press, a division of Salem Media Group, is the world's largest Christian self-publisher, with more than 12,000 titles published to date. Retailers may order The End of Time Mysteries Unveiled through Ingram Book Company and/or Spring Arbor Book Distributors. The book is available online through xulonpress.com/bookstore, amazon.com, and barnesandnoble.com.
Media Contact: Felix Jegede, Ph.D
Email: info(at)etcdm(dot)com
Website: http://www.etcdm.com