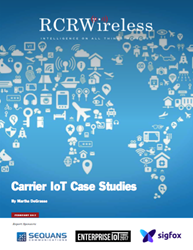 "We often hear that the internet of things means more of everything, but it's also about reducing costs by using fewer resources and by making processes more efficient
Austin, Texas (PRWEB) February 27, 2017
Wireless carriers expect to play a major role in the evolving internet of things, and new semiconductor technology is already helping them connect new devices and develop new use cases. Carriers have supported machine-to-machine connections and telematics for years, and now these businesses are expanding.
Carrier IoT Case Studies, a feature report produced by RCR Wireless News, details four business success stories that rely on the internet of things to generate meaningful results. Wireless carriers are using IoT technology to help customers use less of the resources they value most: time, money, labor and natural resources. The carrier case studies outlined in this report show how the internet of things is reducing waste: water waste, medical waste and time that is wasted when traffic stalls or police officers arrive too late to a crime scene.
"We often hear that the internet of things means more of everything: more connections, more bandwidth, more speed, more processing power and of course more revenue opportunities," said report editor Martha DeGrasse. "But it's also about reducing costs by using fewer resources and by making processes more efficient."
Two of the case studies outlined in this report outline ways that sensors and meters are being used to reduce water waste. In both cases the sensors use LTE gateways to connect to carrier networks, but in the future sensors are expected to connect directly to LTE networks. This is because of new LTE chipsets that are inexpensive enough to embed directly in IoT modules.
Low-power LTE chips are enabling connectivity for devices that have never before been connected to the internet. One of the most promising use cases is asset tracking.
"The arrival of these new technologies, whether it be LTE-M or narrowband IoT, or even some of the proprietary technologies, it's really brought some of the latent demand for tracking applications out of the woodwork," said Craig Miller, VP of worldwide marketing at chip maker Sequans. "It's a big emerging trend to use these mobile networks to track assets."
Asset tracking is not just about location; it can also mean tracking the way that valuable cargo is handled. One case study in this report explains how a Dutch startup is attaching sensors to medicine to make sure it is stored at the proper temperatures and to ensure it is shipped to the intended destination.
Cellular networks are not the only technology used for asset tracking. Dedicated low-power wide area network technology can also be used. One of the case studies in this report outlines the use of the Sigfox network for tracking O2 tanks.
Another case study details the ways in which the city of Miami is using AT&T's LTE network to connect lights, traffic signals and security cameras to the internet. Miami Mayor Carlos Gimenez sees the internet of things as an enabling technology for his city, currently one of the least-connected municipalities in the United States.
This report is accompanied by a webinar that details three more case studies involving clean energy, water, and in-building infrastructure. Webinar panelists include Mobeen Khan, IoT product and strategy executive at AT&T, analyst James Brehm of James Brehm and Associates, Craig Miller, VP of worldwide marketing at Sequans, Michael Orr, VP for sales and partners at Sigfox NA, and report author Martha DeGrasse of RCR Wireless News.
About RCR Wireless News
Since 1982, RCR Wireless News has been providing wireless and mobile industry news, insights, and analysis to industry and enterprise professionals, decision makers, policy makers, analysts and investors. Our mission is to connect, globally and locally, mobile technology professionals and companies online, in person, and now on video. Our dedication to editorial excellence coupled with one of the industry's most comprehensive industry databases and digital networks leads readers and advertisers to consistently choose RCR Wireless News over other industry publications. http://www.rcrwireless.com