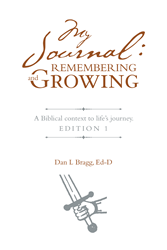 XENIA, Ohio (PRWEB) February 27, 2017
Dan L. Bragg, Ed-D, began journaling when he was 16-years-old and has continued to do so for over 40-years. He knows first-hand the benefits of reflecting on his life through journaling and how it helped him achieve the success and family he has today. As a Superintendent for the Legacy Christian Academy, Bragg has worked with numerous young adults and has heard the concern that many are not continuing their Christian faith into adulthood.
With his experience as a leader in the Christian school system and knowing the benefits of journaling, Bragg combined his passions and published his first book, "My Journal: Remembering and Growing – A Biblical Context to Life's Journey." He hopes to inspire this generation to reflect on their lives, the goals they want to achieve, and show them God's way.
"The journal is a tool that guides readers through the Bible and provides encouraging and motivational words so they may live the Abundant Life," said Bragg. "It allows the user to reflect on their life in context to the Bible and improve upon it, grow, learn and overcome."
Individuals orchestrate their own learning and need to be focused on the right priorities and have the proper mindset to get the most benefits out of learning from the Bible. The journal will not only help readers reflect on their lives and goals, but also becomes their archive to help them remember important things as the old testament is filled with the admonition to "Remember!"
To learn more about the author and his book please visit, http://www.bleabundantlife.com.
"My Journal: Remembering and Growing – A Biblical Context to Life's Journey"
By Dan L. Bragg, Ed-D
ISBN: 978-1-5127-6735-3 (hc), 978-1-5127-6734-6 (sc), 978-1-5127-6736-0 (e)
Available at the http://www.bleabundantlife.com and Amazon
About the author
Dan L. Bragg, Ed-D, is a committed Christian school administrator with over 30 years of experience. He has served in a variety of roles including teacher, coach, principal, and superintendent for several prominent Ohio schools. Bragg's undergraduate degree is from Taylor University, his masters' degrees from Wright State University and Grace Seminary, and his doctoral degree is from Liberty University. Bragg loves what he gets to do in discipling and training the next generation, and his work and ministry drive him with focused passion. In addition to being a long-time adult Sunday school teacher, he enjoys running, reading, and following his four sons around when they do "life." He is married to Annette, an outstanding math teacher at Legacy Christian Academy and they reside in Xenia, Ohio.
For Review Copies & General Inquiries Contact:
LAVIDGE – Phoenix
Lauren Dickerson
ldickerson(at)lavidge(dot)com
480-998-2600