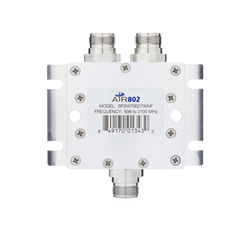 This 2-Way RF combiner / divider not only incorporates quality with low PIM, IP67 rating but certainly makes installation easier with either wall mounting or tower mounting.
Aurora, Illinois (PRWEB) February 26, 2017
AIR802 has released a new 2-way RF combiner / divider / splitter for the 698-2700 MHz band with low PIM, indoor or outdoor use (IP67 rated) which can be wall mounted or uniquely tower mounted on up to 2 inch pipe. The tower mounting capability adds a new dimension to RF combiner type products in that previously no obvious way of mounting existing products existed.
The SP2W7002700NF has tri-metal plated N jack-female connectors and can be used with cellular bands, 902-928 MHz RFID, and 2.4 GHz Wi-Fi. Underneath each connector is a silicon rubber gasket in addition to a gasket under the lid resulting in a completely dust and waterproof device with IP67 rating. This device is also RoHS compliant. This top quality device is manufactured in the USA.
This device is being introduced at the World Mobile Congress in Barcelona from February 27th to March 3rd, 2017.