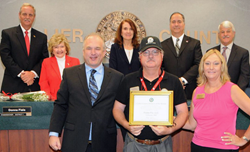 Great things are in the future for Pickle Pro!
Naples, FL (PRWEB) February 25, 2017
Award comes on the heels of grand opening of first Pickle Pro retail store
Upon receiving the Collier County award, Pree said, "I would like to thank our great staff, our loyal and enthusiastic customers, Collier County, the Naples Chamber of Commerce, Express Employment and everyone else who made this possible. This is a great honor and achievement."
The Business of the Month award comes on the heels of Pickle Pro's grand opening of its first retail store, located at its manufacturing plant in East Naples. Elected officials, economic development representatives, vendors, and a variety of others attended the opening ceremony. The Pickle Pro store, which sells pickleball paddles, balls and other pickleball accessories, has been an instant hit, far exceeding Pree's expectations. Though not housed in a conventional high-traffic retail location, it already accounts for a quarter of the company's sales, and offers some items that are not yet available online. Most sales are made to individual customers and not other retailers, although Pickle Pro is actively pursuing deals with various retailers as well.
"Great things are in the future for Pickle Pro," said Tom Watson, and if the past is prologue, that's an accurate prediction. Pickleball, which is played on a badminton-sized court with a hard paddle and a ball that looks somewhat like a Wiffle Ball, began as a backyard game in the mid-1960s. Since then pickleball has exploded into a popular national and international sport. Pickleball is the fastest growing sport in Norht America, one that can be enjoyed by everyone from children to seniors. And Pickle Pro is growing right along with the sport.
Pree believes that he got into the pickleball business at just the right time, having opened his doors in 2013 after being inspired by a biography of Apple's innovative cofounder Steve Jobs. Pree knew pickleball was becoming more popular and believed that he could make a better, more durable pickleball paddle than the vast majority available at the time, and that he could offer them at a price point that would compete favorably against more costly "premium" pickleball paddles. He and his team set out to create a new standard of quality, affordable, "made with pride in the USA" pickleball paddles, and word of their having met those goals spread fast. By 2016 online sales were soaring, and in April of that year the company moved into the 11,500-square-foot building in East Naples that now houses Pickle Pro's pickleball retail outlet as well as its state-of-the-art manufacturing plant.
Apart from its business successes, Pickle Pro has been an active and engaged member of the community since its inception. "We've sponsored pickleball tournaments all over the country and have donated pickleball gear to a variety of schools, youth groups and retirement centers so that people of all ages can be introduced to the sport," Pree said. As it happens, Collier County is home to the U.S. Open Pickleball Championships, which return to East Naples in April. "Of course, Pickle Pro is going to have a booth at the event," Watson said. "And we're always looking for other ways to get involved with pickleball tournaments and other events."
Pickle Pro's reach extends far beyond its South Florida community; the company regularly donates to youth groups and related organizations in other countries. "It's all in the spirit of promoting the sport of pickleball," Pree says. "We love pickleball, and we want everyone else to love it too."
For more information, visit Pickle Pro's web site at http://www.picklepro.com or visit the company's Facebook page at https://www.facebook.com/pickleballpaddle
Naples retail store details: https://www.picklepro.com/factory-outlet-store/
Phone: 844-332-7069
Address:
Pickle Pro LLC
3527 Plover Ave
Unit 2
Naples, FL 34117