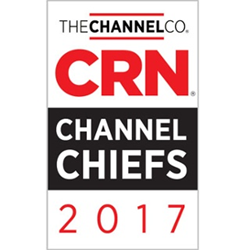 "I'm honored and happy to be recognized by CRN which is really a result of our team's hard work in the IT channel," said George BVoIP, President and CEO, BVoIP.
Philadelphia, PA (PRWEB) March 01, 2017
BVoIP, The MSP Communications Platform, announced today that CRN®, a brand of The Channel Company, has named George BVoIP, President and CEO, to its prestigious list of 2017 Channel Chiefs. The executives on this annual list represent top leaders in the IT channel who excel at driving growth and revenue in their organizations through channel partners.
Channel Chief honorees are selected by CRN's editorial staff on the basis of their professional achievements, standing in the industry, dedication to the channel partner community and strategies for driving future growth and innovation. Each of the 2017 Channel Chiefs has demonstrated loyalty and ongoing support for the IT channel by consistently promoting, defending and executing outstanding channel partner programs.
George BVoIP came from the MSP space, having started and grown his own MSP in the Philadelphia metro area. There is a natural evolution to the industry from project, to break / fix, to hybrid services, and ultimately fully outsourced IT services. George went through the paces from end to end and always was on the bleeding edge of technology adoption and industry trends. Having started BVoIP with all of that industry experience and building a program only to work with other IT and MSP's around the world, George simply "gets it" and his top goals are aligned with helping others to enhance and grow their own technology firms.
Bob Faletra, CEO of The Channel Company
"The executives on our 2017 Channel Chiefs list have distinguished themselves by building strong partner programs, developing and executing effective business strategy and helping to advance the channel as a whole. They represent an extraordinary group of individuals who lead by example and serve as both invaluable advocates and innovators of the IT channel. We applaud their achievements and look forward to their successes in the coming year."
The 2017 CRN Channel Chiefs list is featured in the February 2017 issue of CRN and online at http://www.crn.com/channelchiefs.
George Bardissi, President and CEO at BVoIP
"I'm honored and happy to be recognized by CRN which is really a result of our team's hard work in the IT channel," said George BVoIP, President and CEO, BVoIP. "We are truly committed to working with the IT community as a channel only company and will continue working tirelessly to expand our efforts in the coming year."
Follow The Channel Company: Twitter, LinkedIn and Facebook
About BVoIP
BVoIP helps IT and Managed Service Providers attack voice and unified communications worldwide. Having come out of the MSP space, BVoIP designed its program to not only automate how MSP's interact with their existing systems and tools but to also assist MSP's with an offering to standardize their Unified Communications offering to their customers. BVoIP has built integration with MSP industry solutions from Autotask, ConnectWise, ConnectBooster, DeskDirector, BrightGauge, JoomConnect, and others. BVoIP is currently available in North America, Europe, and the Australian / New Zealand Regions. For more information please visit http://www.bvoip.com or on Facebook, Twitter, and Google+.
About The Channel Company
The Channel Company enables breakthrough IT channel performance with our dominant media, engaging events, expert consulting and education and innovative marketing services and platforms. As the channel catalyst, we connect and empower technology suppliers, solution providers and end users. Backed by more than 30 years of unequalled channel experience, we draw from our deep knowledge to envision innovative new solutions for ever-evolving challenges in the technology marketplace. http://www.thechannelco.com
CRN is a registered trademark of The Channel Company, LLC. The Channel Company logo is a trademark of The Channel Company, LLC (registration pending). All rights reserved.