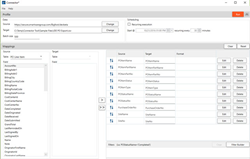 CENTER HARBOR, N.H. (PRWEB) February 27, 2017
Smartware Group, Inc. today unveiled its Bigfoot Integration Suite to assist Bigfoot CMMS solution users to reduce duplicate entry, data inaccuracy and process automation across the enterprise.
The Integration Suite allows Bigfoot CMMS users to connect to a number of software systems, including custom solutions, enterprise resource planning (ERP), human resources management systems (HRMS), accounting, inventory control, procurement, asset monitoring and building automation solutions. Users can exchange data between various systems and Bigfoot through a variety of API integration options, from manual import and export to dynamic real-time automation.
"As we continue to work with growing organizations facing bigger and more complex operational challenges, it was clear that our clients needed a multitude of options to integrate their maintenance data across the enterprise," said Smartware Group President Paul Lachance. "Through the Bigfoot Integration Suite, we now have the ability to help clients achieve optimal process automation, increase data accessibility, reduce operating costs, among many other benefits."
Bigfoot CMMS users can also use the Integration Suite to incorporate maintenance data into corporate reporting tools to build complex reports on assets, equipment, work orders, parts, purchase orders and more. The Integration Suite may be deployed to serve local archiving strategy requirements as well.
Smartware Group will host two free webinars on March 9 and 13 to educate both existing Bigfoot CMMS users and prospective users on how the Integration Suite can streamline business processes and workflows for greater data accuracy, communication, organization and productivity across the enterprise. To register for the March 9 webinar, click here. To register for the March 13 webinar, click here.
To learn more about Smartware Group, Inc. and the Bigfoot Integration Suite, visit http://www.bigfootcmms.com.
About Smartware Group, Inc.
Smartware Group, Inc., headquartered in Center Harbor, N.H., produces Bigfoot CMMS for manufacturing, distribution, data centers, hospitality, mining, and energy & utilities industries.
Since 2002, Bigfoot has helped users worldwide improve facility and equipment maintenance operations with advanced capabilities that include a mobile app, safety/EHS, preventive maintenance (PMs) and predictive maintenance, work order scheduling, maintenance requests, asset lifecycle management, parts replacement inventory, and built-in reporting. Bigfoot CMMS' native functionality paired with its intuitive design allows maintenance professionals to implement the solution and get results quickly, often in a matter of weeks.
The Bigfoot solution earned a 2015 "Product of the Year" Gold award by Plant Engineering magazine, and previously won a Bronze Stevie® Award during the 11th Annual International Business Awards in the Best Interface Design category. Experience the Bigfoot difference by accessing a free trial at http://www.bigfootcmms.com/free-trial today.