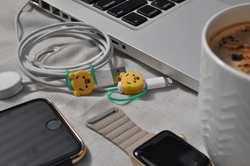 XENO - The only cable protector and organizer you will ever need. Never fumble with wires again.
(PRWEB) February 27, 2017
XENO is now available on Kickstarter for pledges.
XENO is the only cable protector and organizer users will ever need. It will organize and protect mobile phone charger cables, earphone cables and laptop power chords so that they are kept from fraying and occupy less space. XENO fits very well to iPhone and Samsung Galaxy charging cables in addition to a majority of phone charging cables.
XENO is designed specially to protect charging cables and earphones from frayed broken edge and keep them safe. XENO fits majority of mobile phone charging cables and earphones so they can remain protected from frayed edges. The elastomer band has been thoroughly tested for expansion and contraction for strength, shape and shine. The band returns back to its original shape after use and maintains its shine even after repeated use time and again.
With XENO users will never again face broken or frayed cables. XENO attaches to the edge of the cables and prevents them from fraying.
XENO seamlessly organizes cables and keeps them tangle-free. No more hassles of sorting out jumbled laptop or phone charging cables and headphones. Xeno can also wrap long laptop cables to organize them. Cables now have an identity and character of their own, and look different and unique than other cables out there.
Big headphones like Bose, Sennheiser or Beats have long cables which keep dangling while putting the headphones on. With XENO, its easy to wrap the dangling cables and keep them handy instead of dangling.
Give XENO a try. We are sure you will love it!
Links