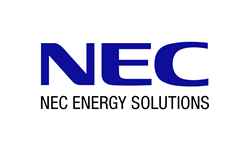 "We're delighted to work with NEC Energy Solutions to develop the UK's largest portfolio of energy storage plants for National Grid. These battery sites will pave the way for more renewable energy." -Justin Thesiger, Operations Director at Low Carbon
Westborough, MA (PRWEB) February 28, 2017
NEC Energy Solutions, Inc. (NEC ES), a subsidiary of NEC Corporation (NEC; TSE: 6701), announced today that it has signed a contract to build and operate a total of 50MW of energy storage projects with VLC Energy, a new joint venture company created by Low Carbon, a renewable energy investment company, and VPI Immingham, the owner of one of the largest combined heat and power plants in Europe and part of the Vitol Group.
The projects, which include a 40 MW facility in Glassenbury, UK and a 10 MW installation in Cleator, UK will be the largest portfolio of battery sites connected to the UK grid once operational later this year. The Cleator and Glassenbury sites secured two contracts with National Grid in August 2016 for battery energy storage systems to provide Enhanced Frequency Response (EFR) to the UK system operator.
NEC ES will provide turnkey EPC and O&M services which includes its GSS® grid storage solution, installation and commissioning, and ten years of operations and maintenance services for each project. The facilities will be operated by NEC ES under the new EFR guidelines, will provide seasonal Triad avoidance services and will also participate in other markets. Project execution is already underway and the systems are expected to be installed and operational in November 2017.
Justin Thesiger, Operations Director, at Low Carbon, said, "We're delighted to work with NEC Energy Solutions to develop the UK's largest portfolio of energy storage plants for National Grid. These battery sites will pave the way for more renewable energy sources, such as solar power and wind energy, to be connected to the UK's overall power mix by helping to balance energy supply and demand more effectively. This in turn should help to challenge the causes of climate change and meet growing demand for renewable energy."