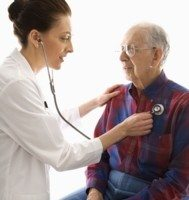 ...resulting in complete control of pleural effusion for 3 months after IHPC in all cases.
Raleigh, NC (PRWEB) February 26, 2017
Scientists in Saitama, Japan have released a new report showing good results in the treatment of excess lung fluid in patients with several kinds of cancer, including malignant mesothelioma. Surviving Mesothelioma has just posted an article on the new research. Click here to read it now.
Pleural effusions are a common side effect of late stage malignant mesothelioma, often causing chest pain, shortness of breath and fatigue. The two most common ways to treat the problem are by draining the fluid or surgically/chemically closing the pleural space where fluid collects.
But in a new report in the journal Lung Cancer, doctors at Saitama Medical University relate their results treating 21 pleural effusion patients (8 lung cancer, 7 mesothelioma, 5 other cancers) with a procedure called IHPC. The results were impressive.
"Area under curve (AUC) of free platinum in the pleural space was calculated to be 26.3μg/mLxh, resulting in complete control of pleural effusion for 3 months after IHPC in all cases," writes author Dr. Hirozo Sakaguchi in the journal Lung Cancer.
Platinum is the primary ingredient in the drug cisplatin, which is also used for mesothelioma chemotherapy.
"Pleural effusions are very common with malignant mesothelioma, affecting more than 90 percent of patients," says Alex Strauss, Managing Editor for Surviving Mesothelioma. "This study is further validation that there are effective treatment options that can improve quality of life for mesothelioma patients."
To read more about pleural effusions in mesothelioma and the IHPC method for treating them, see Novel Technique Controls Pleural Effusion in Mesothelioma Patients, now available on the Surviving Mesothelioma website.
Sakaguchi, H, et al, "Pharmacokinetic evaluation of intrapleural perfusion with hyperthermic chemotherapy using cisplatin in patients with malignant pleural effusion", February 2017, Lung Cancer, pp. 70 - 74, http://www.lungcancerjournal.info/article/S0169-5002(16)30582-7/abstract
For more than a decade, Surviving Mesothelioma has brought readers the most important and groundbreaking news on the causes, diagnosis and treatment of malignant mesothelioma. All Surviving Mesothelioma news is gathered and reported directly from the peer-reviewed medical literature. Written for mesothelioma patients and their loved ones, Surviving Mesothelioma news helps families make more informed decisions.