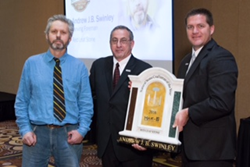 It's great to see Andrew recognized for many years of skill, hard work, and extraordinary artistic expression
Bloomington, Ind. (PRWEB) February 27, 2017
Andrew Swinley, recipient of the MIA+BSI 2016 Natural Stone Craftsman of the Year Award, received the award last month for a lifelong career dedicated to all manner of architectural carving in stone. Among the many varieties of natural stone he has employed, Swinley said that Indiana Limestone is one he particularly likes.
"I've known it since 2002," Swinley said. "I think it's a great stone. It's relatively soft and takes a good edge. Yet it's quite durable out in the open – this is a good reliable stone that won't fall to pieces. It weathers quite nicely."
The award honors "one craftsman who has physically performed outstanding stone fabrication and/or installation over a period of many years," according to the MIA+BSI website. A successful candidate must have served as an apprentice stonemason, then risen through the ranks to superintendent. Candidates must also demonstrate "a solid track record of leadership and mentorship."
Swinley said the color variations available in Indiana Limestone are helpful to a stone-carving artisan. "I do like the grey stuff and the buff," he said.
"It really covers everything," he said. "I can use it for all sorts or carving. It's nicer to work with it dry than wet."
"It's great to see Andrew recognized for many years of skill, hard work, and extraordinary artistic expression," said Tim Pick, Indiana Limestone Company's Canada sales manager. "Canada has a long history of top-level craftsmanship, and many of our best artisans love to work with Indiana Limestone."
For more information on the Indiana Limestone Company and its products, call (812) 824-2621 or visit indianalimestonecompany.com.
About Indiana Limestone Company
Indiana Limestone Company is unmatched as the premier supplier of Indiana Limestone in a range of beautiful and lasting building products. Founded in 1926 (with predecessor firms that had been quarrying limestone since the mid-1800s), ILCO today remains the provider of choice for this internationally renowned natural stone. Throughout an illustrious history in which its stone has made such iconic structures as the Empire State Building, National Cathedral, and the Pentagon, ILCO has reliably provided the highest quality products and services carefully tailored to the needs of the market with an environmental, natural focus. For more information, please visit http://www.indianalimestonecompany.com.