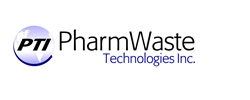 One-of-a-kind solution for pharmaceutical waste management and compliance.
Des Moines, Iowa (PRWEB) February 27, 2017
Prior to disposal, waste drugs need to be properly classified as to their hazards. Determining which drugs are hazardous by EPA through RCRA (Resource Conservation & Recovery Act) and DOT (Department of Transportation) is the first step in creating a compliant pharmaceutical waste management program.
QuickHAZ™ allows the user to manage their entire drug formulary online. Features range from the documentation of waste generated to the creation and submission of shipping manifests. Got a new drug to characterize? No problem, simply add it to the online inventory with a touch of a button. Real time drug waste characterizations ensure the formulary is up to date on a daily basis. QuickHAZ™ also allows the user to customize bin color selection when segregating drug waste into the proper containers prior to shipping. The utilization of color coding reduces the amount of segregation errors. All these significant features, plus more, are available through the QuickHAZ program.
"It's much more than an online pharmaceutical waste classification system," said Jeff Hollar, President of PharmWaste Technologies. "We are cognizant of the regulatory trends and have responded accordingly with viable solutions. With the recent passage of EPA's Hazardous Waste Generator Improvements Rule, determining which drugs are hazardous is of vital importance. Additionally, the anticipated passage of EPA's Management Standards for Hazardous Waste Pharmaceuticals makes not only hazardous waste determinations critical, but the documentation of those wastes as well. Pharmacies are able to manage their entire drug formulary with our proprietary online software and print various reports. These reports aid in compliance with regulators when handling, transporting and disposing hazardous pharmaceutical waste," says Hollar.
About PharmWaste Technologies
PharmWaste Technologies Inc. is an industry leader in providing solutions surrounding the complex area of pharmaceutical waste through a combination of industry experience and innovative solutions. Target
customers include healthcare, hospital, retail, veterinary and Long Term Care (LTC) pharmacies as well as Dr.'s offices. For more information visit http://www.pwaste.com
PharmWaste Technologies also partners with some of the largest waste disposal vendors in the healthcare industry. Medical Waste, Bio-hazardous, Sharps and RCRA Disposal companies rely on their expertise in creating highly successful pharmaceutical waste disposal programs for their customers. For more information visit PTI Partnerships Program.