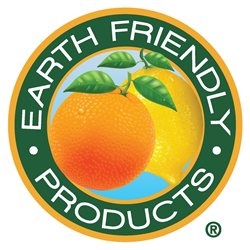 Cypress, CA (PRWEB) February 25, 2017
Earth Friendly Products, the maker of ECOS™ environmentally friendly laundry detergent and household cleaners, joined celebrities and sustainable fashion leaders as they celebrated environmental achievements and eco-fashion leading up to the 89th Academy Awards® on Sunday.
On Wednesday, Earth Friendly Products partnered with Global Green USA at their annual Pre-Oscar® Awards and Concert to honor environmental leaders. The Global Green Award recipients included Douglas Chandler Stoup who received the Global Green People Award; Ryan Brown CEO, Earth Day Texas who received the Global Green Places Award; as well as 4Navitas and Plastic Pollution who both received the Global Green Planet Award. The night also included honoring David Archambault, II, the Standing Rock Sioux Tribe Chairman as well as Douglas Stoup, Polar Adventurer and Environmental Educator. Earth Friendly Products' president and CEO Kelly Vlahakis-Hanks had the honor of introducing Australian pop/rock sensation Cody Simpson to the stage as he performed top hits.
"We're so proud to join Global Green in their work to protect people and the environment," says Vlahakis-Hanks. "Global Green does amazing work to build safer, green communities and we're thrilled to have the opportunity to spread the message of the importance of green products that are good for our planet and the health of our families and communities through Global Green."
On Thursday, Earth Friendly Products joined "Red Carpet Green Dress" at their 8th annual Oscars-inspired initiative of creating sustainable eveningwear to showcase during the Academy Awards®. The annual campaign brings awareness to the environment and community through sustainable fashion. Emma Roberts, Priyanka Bose, Missi Pyle and nearly 100 other supporters attended the soiree hosted by Suzy Amis Cameron in partnership with Atelier Swarovski.
Critically acclaimed actresses Emma Roberts and Priyanka Bose are supporting Red Carpet Green Dress this year. Priyanka Bose is an internationally celebrated model/actress who plays "Kamla Munshi" in the feature film "Lion" alongside Dev Patel, currently nominated for six Academy Awards, including "Best Motion Picture of the Year." Emma Roberts is an undeniable talent known for her diverse roles in films such as "Palo Alto," "We're the Millers," and the upcoming "Billionaire Boys Club." Roberts currently stars as 'Chanel Oberlin' in the Fox comedy-horror series "Scream Queens," from the minds of "Glee" creators Ryan Murphy, Brad Flachuk, and Ian Brennan.
"Red Carpet Green Dress is another fantastic campaign we're honored to partner with for the third year in a row as it brings the importance of more sustainable fashion practices to the world's attention during Oscar week. I'm so excited to see the breathtaking designs that Red Carpet Green Dress has produced which will be at the Academy Awards," says Vlahakis-Hanks.
At each event, Vlahakis-Hanks walked the green carpet wearing dresses sustainably designed by Lindee Daniel using exquisite rare wild and peace silks (organic, cruelty-free, fair trade), colors by a natural dyeing process and Daniel's signature artistic design designs.
ECOS™ cleaners, featured at both events, are produced in the U.S. in carbon neutral, water neutral, and Platinum Zero Waste-certified facilities. ECOS™ laundry detergents are among the over 100 Safer Choice-certified products made by Earth Friendly Products. U.S. EPA Safer Choice certification guarantees that every ingredient in the product is the safest in its class and that it has been tested for superior performance.
2017 marks the 50th anniversary of the family-owned and –operated company. Earth Friendly Products will be celebrating throughout the year, highlighted with VIP celebrations at its four facilities across the U.S. in the month of April, in conjunction with global Earth Day celebrations.
For more information about ECOS™ products, please visit http://www.ecos.com/.
###
ABOUT EARTH FRIENDLY PRODUCTS
Family owned and operated since 1967, Earth Friendly Products is the maker of ECOS™ Laundry Detergent and over 200 other environmentally friendly products that are safer for people, pets and the planet. Made with plant-powered ingredients, ECOS™ cleaners are thoughtfully sourced, free of dyes, pH balanced, readily biodegradable, easily recyclable and never tested on animals. Earth Friendly Products is a primary manufacturer that makes its own products in sustainable manufacturing facilities located across the U.S. All Earth Friendly Products facilities are carbon neutral, water neutral and Zero Waste Platinum certified, saving over 53 million pounds of carbon dioxide annually and diverting over 95% of all waste from landfills. Over 100 ECOS™ products have received the coveted U.S. EPA Safer Choice certification, which means that every ingredient is the safest in its class and that the product has proven superior performance. ECOS™, Disney Baby ECOS™, ECOS for Pets! and ECOS™ Pro cleaners are available at selected major retailers throughout the U.S., in over 60 countries and online at ecos.com and babyecos.com.