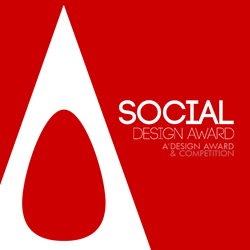 Como, Italy (PRWEB) February 26, 2017
Today, A' Design Awards & Competition has released its last call for entries to the 7th Edition of International Social Design Awards.
The 7th A' Social Design Award is open for entries by Social Design Professionals, Product Designers, System Designers, Governments and Institutions worldwide with realized projects and conceptual works.
The first phase of the International Social Design Awards is free to join. Design Professionals, Governments and Institutions can register at A' Design Awards to submit a work and receive a preliminary score for the entries. Projects that pass the preliminaries can proceed with nomination, however it shall be noted in advance that there is a nominal fee for nominating entries to the 7th Social Awards.
Projects that could be submitted to A' Social Design Awards: Eco-Sustainable Designs, Design for Environment, Design for Sustainability, Social Designs and more that were designed in the last 10 years. More details are available at https://competition.adesignaward.com/competitions/social.html.
Deadline for entries to A' Social Design Awards is on February 28, 2017 with winners announced on April 15, 2017.
Winners of the 7th A' Social Design Awards will be granted the prestigious A' Design Prize which contains a series of PR, marketing and publicity tools to celebrate the status of winning the Social Awards together with a Design Excellence Certificate, lifetime license to use the A' Social Design Awards Winner Logo, Yearbook of Best Designs and an Exclusive Design Award Trophy. In addition, laureates will be invited to take part in Exhibitions of Awarded Works and A' Design Awards' Gala-Night – La Notte Premio A' at Lake Como.
About the A' Social Design Awards
The A' Design Awards & Competition has been established to honor the very best design projects in all countries and in all creative disciplines, thus A' Social Design Awards 2017 aims to create a global awareness and understanding for good design recognizing the best social design projects. The ultimate aim of the A' Social Design Awards is to push designers, companies and brands worldwide to create superior products and projects that benefit society and propose positive value. To learn more about the A' Design Awards and the A' International Social Design Awards please visit http://www.designaward.com.