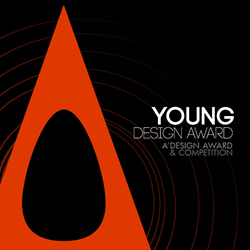 Como, Italy (PRWEB) February 26, 2017
Today, A' Design Award & Competition has released its last call for entries to A' International Young Design Awards where entries can be made by Young Designers, New Artists, Fresh Design Talents and Design Students from all over the globe.
The A' International Young Design Awards is a two-phase competition. The first phase of the competition is completely free, and Young Designers and Artists can register at A' Design Awards to submit their works. Projects that pass the preliminaries can proceed with nomination to 7th Edition of A' Young Design Competition.
The following are some example projects that could be submitted to A' Young Design Awards: Young Designers, Students, Freelance Designers, Upcoming Artists, Fresh Graduates and more. For eligibility and special requirements, please see https://competition.adesignaward.com/competitions/young.html.
Deadline for entries to A' Young Design Awards is on February 28, 2017.
Results of the A' Young Design Awards will be announced on April 15, 2017.
Winning projects and designers of the A' Young Design Awards will be granted the highly coveted A' Design Prize which contains a series of PR, marketing and publicity tools to celebrate the status of winning the Young Awards. In addition the Young Design Awards winners will also get an exclusive interview which will be published at Designer Interviews website as well as included in the Press Kits.
Moreover, the A' Design Prize for A' Young Design Awards includes: Design Excellence Certificate, Lifetime license to use the A' Young Design Awards Winner Logo, Yearbook of Best Designs, Exhibitions of Awarded Works in Italy, Exclusive Design Award Trophy, Two-Person Invitation to Take Part in the A' Design Awards' Gala-Night, inclusion in World Design Rankings, Designer Rankings, Young Design Classifications and Design Legends platforms.
About A' Design Awards
The A' Design Award & Competition has been established to highlight and promote the best design projects in all countries. The primary aim of the A' Design Award & Competition is to create a global awareness and understanding for good design practices while encouraging designers, companies and brands worldwide to create superior products and projects that benefit society. To learn more about the A' Design Awards and the A' International Young Design Awards please visit designaward.com