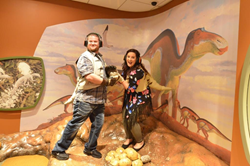 Who says children's museums are just for kids? Grownups had just as much fun during Museum by Moonlight.
Indianapolis, IN (PRWEB) February 26, 2017
Museum by Moonlight sold out at The Children's Museum of Indianapolis. On Feb. 25, 2017, from 8 p.m. until the Water Clock struck midnight, American Funds from Capital Group and the world's largest children's museum threw a party for kids at heart.
Museum by Moonlight is exclusively for adults of all ages (21 and older). The grownups explored five floors of new and classic exhibits, enjoyed a cash-bar, and refueled with free food samples from restaurants like The Melting Pot, Buca di Beppo, Insomnia Cookies, and more.
Here are some of the activities that took place:

Adults were invited to get their head in the game with some of Indianapolis' favorite sports teams. Riley Children's Health Sports Legends Experience is on its way, and the museum gave guests a sneak peek into its mini-sports camp with activities created by the Indianapolis Colts, Indiana Pacers, Indy Fuel, Indianapolis Indians, and the Indianapolis Motor Speedway.
A fan favorite was a ride down the Chocolate Slide. The 47-foot slide, themed like a river of chocolate, sent guests whirling through a Wonka-inspired wonderland from Level 2 to Level 1.
Dinosphere® was the place to be for a silent-disco among the dinos. Attendees grabbed headphones and felt the beat to their choice of audio tracks.
The museum's newest exhibit, Circus—Starring YOU, just opened and adults had a blast walking the virtual tightrope, balancing on a rolla bolla, and clowning-around with costumes, jokes, and juggling.
Several grownups opted to play giant-sized games like Jenga and Yahtzee in the reinvented Dow AgroSciences ScienceWorks exhibit.
Others blasted off on the International Space Station (ISS) in Beyond Spaceship Earth and viewed a show about Gus Grissom and the Liberty Bell 7 in the Schaefer Planetarium and Space Object Theater.
Some discovered the face-painters to help them turn into a beauty or a beast before midnight, then went 'round and 'round on a piece of local history—the Carousel, which turns 100-years-old this year.
All proceeds benefit The Children's Museum Fund, which ensures that all children and families, regardless of income, can experience the museum.
About The Children's Museum of Indianapolis
The Children's Museum of Indianapolis is a nonprofit institution committed to creating extraordinary learning experiences across the arts, sciences, and humanities that have the power to transform the lives of children and families. For more information about The Children's Museum, visit http://www.childrensmuseum.org, follow us on Twitter @TCMIndy, Instagram @childrensmuseum, YouTube.com/IndyTCM, and Facebook.