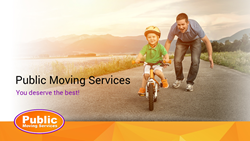 "Perhaps the best moving company in the United States today." Andrew Shukman, CEO at ReloMarket.com
Charlotte, NC (PRWEB) March 03, 2017
Public Moving Services has become one of the fastest-growing long-distance moving companies in the US, having recently expanded to several new states. Now a leading moving company in the country, they serve homes and businesses all over the US, with a focus on Texas, North and South Carolina, Illinois, Kentucky, Massachusetts, Florida, Connecticut, Colorado, Indiana and Maryland.
The company understands that moving house can be both a stressful and exciting time, and this is doubly true for families moving to an entirely new state. With that in mind, Public Moving Services now offers the full range of moving and relocation services to help ensure that their customers get a great head start in their new homes. Their services are also tailored to meet the individual needs of the client, and they offer to take care of any packing before they load everything into the vans.
Being a full-service moving company, they also have their own storage depots. If customers are not quite ready to move everything to their new place, they can use secure storage facilities for as long as is necessary. Whatever the customer's situation, Public Moving Services will take care of every individual moving need by providing all the services needed for the process to go smoothly. They also offer an optional package, whereby they can safely disassemble fragile electronic items and set them up in the new place.
Public Moving Services serves all 50 states, and they work with clients large and small from government-run facilities to small family homes. They are also supporters of the Senior Citizen Support Group, the World Vision for Children and the Department of Defense. However, while they might be a big company, they remain a family-owned entity. As such, they treat all their clients like family, priding ourselves on offering a safe, reliable and affordable service no matter what.
About Public Moving Services
Public Moving Services is based in Charlotte, North Carolina. They have more than 15 years of experience in the field of relocation services. Over the years, they've built up a reputation as one of the best moving services in the US, particularly when it comes to long-distance, interstate moves. They offer fast delivery, quality packing, a Web-based tracking system and professional customer support as well. As such, all customers can be confident that the company is the right one to choose for their move.
Take a look at our website today to get a free quote for your move.