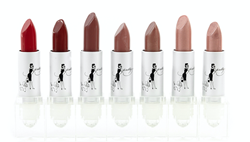 "I realize there are a million cosmetic lines on the market but I want my Pretty Girl clients to know that there was a lot of thought, love and humor that went into each product."
San Francisco, California (PRWEB) February 28, 2017
Pretty Girl Makeup, a cosmetic company that specializes in natural, long-lasting products, today launched a limited-time lipstick collection, 'Pretty Girl Lip Love'. The new collection will feature 8 lipsticks ranging from light to darker colors for women of all skin tones.
"Creating a lipstick line seemed like the next natural progression after the lip gloss collection," said Christina Flach, Founder of Pretty Girl Makeup. "The lipsticks take the lip gloss to another level of color, texture and longevity. Not everyone loves lip gloss, so I wanted to create a collection that anyone could fall in love with."
The new collection will feature 8 lipsticks, including:
Day at the Spa - A pearly pink
Girlfriends - A toasted brown with a hint of shimmer
Party Shoes - A sheer chocolate cherry
Rich Girl – Classic true blue red
Charge it! - Creamy brick red
Pretty Girl Lunch - A dark, creamy brown
Private Jet - Creamy neutral brown
Rich Husband – Mauve with a hint of pink and brown
"I love giving fun names to my products that can make my clients smile" said Flach. "I realize there are a million cosmetic lines on the market but I want my Pretty Girl clients to know that there was a lot of thought, love and humor that went into each product."
'Pretty Girl Lip Love' is the newest addition to Pretty Girl Makeup's established library of products including lip glosses, mascaras, eyeliners, and bronzers. Flach, a celebrity makeup artist, founded the company in 1999. She has worked in commercial print, advertising, fashion, beauty, TV, and film. In addition to creating high-end beauty products, she also runs her own beauty blog and writes for Soap Opera Digest.
The 'Pretty Girl Lip Love" collection will be available for purchase while supplies last. For more information on Pretty Girl Makeup please visit, https://prettygirlmakeup.com.
About Pretty Girl Makeup:
Pretty Girl Makeup is a cosmetic company that specializes in natural, long-lasting products for girls on the go. Founded in 1999 by celebrity makeup artist Christina Flach, Pretty Girl Makeup mixes fantasy with a bit of luxury by combining vitamins, minerals and essential oils. The company focuses on high-quality makeup that not only looks good but also feels good on skin. For more information, please visit, http://www.prettygirlmakeup.com.