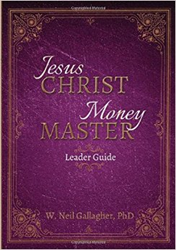 (PRWEB) February 27, 2017
Gallagher, CEO and President of Gallagher Financial Group http://gallagherfg.com/, incorporated the morals and sayings of Jesus Christ in order to give advice on money management. In his book, Gallagher repeats the warnings of Jesus about temptations of money and the challenges that wealth can bring to virtue.
According to the Kirkus Review, Gallagher notes that Jesus enthusiastically extolled the value of work as a divine gift that gives purpose and fortifies character. Gallagher provides readers with workbooks, complete with discussion questions, prayers, and self-reflection exercises.
Although the book is spiritual in nature, many of the lessons are common sense, and relevant for anyone looking to take control of their finances and learn to function as employees, self-employed workers, or bosses.
With over 20 years of experience guiding hardworking people toward retirement, Gallagher's goal is to help others take responsibility for their financial future. His life's passion is to help others retire safe, early and happy. As stated by the Kirkus Review, "he does an expert job of putting homespun wisdom in the context of scriptural exegesis.
Jesus Christ, Money Master is now available for purchase, http://gallagherfg.com/books/.