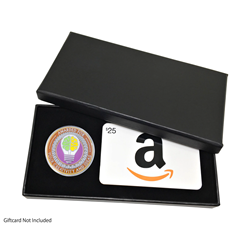 Our mission is to help all deserving people feel more appreciated.
Rogers, AR (PRWEB) February 27, 2017
Known for their employee recognition tools and for their leadership blog, AttaCoin has announced a system that combines their awards with high quality, hand-made wooden displays suitable for use in any office.
AttaCoin's main product, which was already on the market, is a series of 5 different 1.75" employee appreciation coins. The exclusive designs were developed by Allan Peretz, a US Army veteran who served as an Infantry soldier in Operation Desert Storm, and his wife Lisa Peretz. Each coin recognizes a different employee attribute or accomplishment and features designs with business-friendly imagery. Coins are available to recognize Creativity, Mastery & Skill, Leadership, Effort, and Teamwork. Each solid metal coin is factory minted then coated with highly reflective nickel. Coins are then painted in enamel in up to 5 different colors and coated with an epoxy layer that can provide decades of protection.
With this news release, AttaCoin has added their own line of wooden stands to complement the coins. The new stands, crafted from American walnut, are individually Made in the USA by James Hankison, a US Air Force Veteran. Stands are specifically designed to hold between 1 and 5 of AttaCoin's appreciation awards. An employee who earns all 5 designs will have a "full set" to show on their desk with pride. Hankison finishes each rack with linseed oil for a beautiful, long-lasting finish.
Said AttaCoin's Peretz, "We've been searching worldwide for about a year for a coin display option that would complement our high-quality awards. We're so glad that we found a beautiful option in the USA and, even better, that it was Veteran-Made."
Said Hankison, "Woodworking has always been a hobby for me. When AttaCoin reached out with this opportunity, I couldn't resist. Their product looks great and I'm fully on board with their mission of team appreciation."
Although built for the 21st Century office, AttaCoin's products trace their heritage back to military "challenge coins" which both Peretz and Hankison have collected through the years. These coins are cherished by troops in all military branches and are used as a way to chronicle the service member's career accomplishments. The awarding of challenge coins traces its history all the way back to the Roman Empire.
In addition to their Employee Appreciation Gifts, AttaCoin also sells a line of products for children called AttaCoin Kids and a full line of Veteran Appreciation products. In addition, they offer other accessories including their exclusive "SideCar Box" that holds both an AttaCoin award and any standard gift card. Customers can also order custom-designed tokens with their company's own colors and logo and a custom message. With extensive design as well as corporate experience, AttaCoin staff are happy to work with customers one-on-one to come up with the perfect design for their needs.
Concluded co-founder Allan Peretz, "Our mission is to help all deserving people feel more appreciated. The new display racks make AttaCoin appreciation coins even more special."
Interested customers can see AttaCoin's products at https://www.attacoin.com/ where every product ships for free or call their sales team at (800) 260-0365. AttaCoin® tokens are also eligible with free shipping at Amazon.
About AttaCoin®
AttaCoin manufactures and sells unique employee and team motivation tools to businesses, academic institutions, and to the US Military. The company is a US-based and veteran-owned business. AttaCoin was founded in 2016 by Lisa and Allan Peretz, a husband and wife team. Lisa, the general manager, runs the company's day-to-day operations.
Media Contact
Lisa Peretz
100 North Dixieland Suite 2-200
Rogers, AR 72756
Telephone: 1 (800) 260-0365
Email: lisa(at)attacoin(dot)com
Website: https://www.attacoin.com/