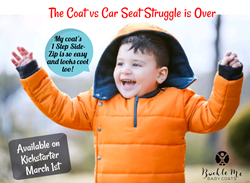 The Coat vs Car Seat Struggle is Over
Londonderry, NH (PRWEB) February 28, 2017
In the winter, the American Academy of Pediatrics and the NHTSA recommend taking traditional puffy coats off so that the harness can be tightened properly. This is good, sound advice but for parents it's a constant struggle.
Until now.
Buckle Me Baby Coats, a Londonderry, NH based startup, has reinvented the winter coat. Our coat has a patented side and shoulder seam opening that allows the front panel to be pulled out of the way and the harness placed properly on the shoulder and chest without any bulky fabric in the way.
Crash tested at the University of Michigan's Transportation Research Institute, our coat not only outperformed traditional puffy coats but also performed similarly to no coat at all. That is big news! With BMB's innovative design the take the coat off – put the coat on struggle is over for busy, safety conscious parents.
Buckle Me Baby Coats is currently raising funds for its Fall launch and will be available through Kickstarter starting March 1st, 2017. https://www.kickstarter.com/projects/66161170/599156107?token=fb1cad27
Please take a moment to check out some of our videos demonstrating how the coat works on Facebook http://www.fb.com/bucklemebabycoats.