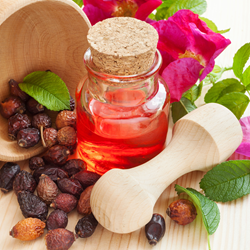 An Anti-Wrinkle Serum that actually works
Brooklyn, New York (PRWEB) March 16, 2017
To say it was a quest like none other is still an understatement. It was a few short years ago that the CEO, Andres Roban a.k.a. "Gym Hoodie" came to the realization he was soon turning 40 yrs old, and needed to revolutionize the way individuals fight facial fine lines and wrinkles. Contrary to popular belief, men hate aging as much as women, but are often times too ashamed to admit it. That was not the case with CEO, "Gym Hoodie". There was one thing he found lacking in most products he sought, and that was an anti-wrinkle product sans chemicals or synthetic oils. Though many claimed they are 100% natural, it was not the case with most, if not all of the products.
Delving into a new and fascinating field, Gym Hoodie was passionate and ambitious in his quest to discover all-natural oils which:

Gets deep into facial fine lines and wrinkles, greatly reducing them.
Improves the quality and elasticity of your skin.
Builds collagen and reduce cell damage cause by exposure to the sun.
Possesses anti-inflammatory benefits.
Leaves your face healthy and visibly younger, from its first application.
Is perfect for men and women alike, for use on the face, neck and décolleté.
Truly works and lives up to its promises.
Using only natural ingredients, some of which cost as much as $2,500 for 16 ounces of oil, it took Gym Hoodie two and a half years to finalize his proprietary blend of oils which targets and visibly reduces facial fine lines and wrinkles, from its first application. At $150 for the 1oz Serum, Ounce of Nature strongly believes it is worth every penny, as they source the very best quality essential oils for its blend.
If this were an episode of Scooby-Doo, where the team was trying to find the source of this "magical anti-wrinkle serum", Velma would be screaming Jinkies!, Jinkies!, at the top of her lungs, after she discovered it was from Ounce of Nature™.
With companies promising everyday that their product is sure to reduce facial lines and wrinkles, none of them have been able to genuinely back up their claims by showing legitimate results, without photo-shopping, edited and time-lapsed videos and before/after photos in different lighting, etc, until now, with the release of Ounce of Nature's Anti-Wrinkle Serum.
The fact is, our oil work wonders with every single facial application. We first tested our finished product on family and friends, wowing them every single time, before bringing it to the public. As mentioned before, there will be no gimmicks, no photo-shopping of photos showing "before and after photos" in different lights and no time-lapse videos by Ounce of Nature™ . Ounce of Nature's Anti-Wrinkle Serum's results are actual and accurate. Attend the AOWIE event on Saturday to see them. Or, you can look at Gym Hoodie, who does not look a day over 35 yrs old, to which he credits using his very own Anti-Aging Serum.
Already in talks with Modern Living with kathy ireland to showcase Ounce of Nature™ Anti-Aging Serum, Gym Hoodie and his company will soon be dominating the anti-wrinkle industry with this revolutionary anti-wrinkle blend of essential oils.
Aging is inevitable, however, by using Ounce of Nature™ Anti-Aging Serum, we will be taking the necessary steps needed to reduce facial fine lines and wrinkles, promote healthy face/skin, and maintain that youthful glow.
On Saturday March 18th, Ounce of Nature™ will Launch its Anti-Wrinkle Serum in Lakewood, New Jersey at an AOWIE(http://www.aowie.com) event hosted by Lisa Ascolese(The Invevntress) and Co-Hosted by Carla Hall of The Chew. This star studded event will be graced by television Producers, QVC Presenters, Celebrities and business minds, all there to support new and innovative products. We will be giving facial treatments with the Ounce of Nature's Anti-Wrinkle Serum to attendees. You must visit http://www.ounceofnature.com and click on the Calendar at the top of the page to reserve a time for your facial treatment. Limited spots available!
Yes, Ounce of Nature™ has everyone in awe, and attendees will have the opportunity to be awed with the release of the world's most authentic Anti-Aging Serum.
Ounce of Nature™ Anti-Wrinkle Serum is 100% organic, 100% Vegan, with no alcohol, no paraben, non-comedogenic, non-phthalate, non-synthetic, no preservatives, Non-GMO. We never test our oils on animals. It is gentle enough to use as a stay-on application before bed, it can be used as a day/night application and is perfect to use with moisturizers and makeup(allow 15-30 minutes between applications).
###
For further information, please contact Andres Roban a..k.a. "Gym Hoodie":
Email: support(at)ounceofnature(dot)com
Cell: 718-781-0261