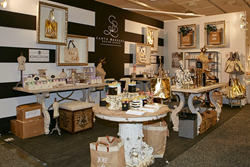 We applaud and appreciate Santa Barbara Design Studio's commitment to excellence in creativity and merchandising.
Phoenix, AZ (PRWEB) February 07, 2017
Santa Barbara Design Studio, importer and manufacturer of eclectic table top accessories and gift products recently was awarded the Best of Category For Outstanding Visual Display Award during the Atlanta International Gift and Home Furnishings Market this past January. The award competition, which was sponsored by AmericasMart, recognized Santa Barbara Design Studio's showroom located on the 2nd floor of building 2.
"We are proud to have been acknowledged with this award during the Atlanta market," said Paul DiGiovanni CEO of Creative Brands, which owns Santa Barbara Design Studio. "Our team has invested considerable time and effort into the presentation of this and our permanent showrooms and we are thrilled to be recognized by AmericasMart. We are honored to be working with an extremely talented team of designers and product developers and extend our sincere thanks to our whole team."
Sponsored by AmericasMart, the Best of Category awards include hundreds of participating showrooms, temporary exhibits and showcase window displays throughout the market. Santa Barbara Design Studio achieved the top prize from among the eighty exhibits judged. "The Santa Barbara Design Studio exhibit in Atlanta was simply outstanding," said Amy Schlick, leasing manager for AmericasMart. We applaud and appreciate Santa Barbara Design Studio's commitment to excellence in creativity and merchandising. Every booth in their category was judged, and clearly SBDS was the exhibit that stood out above the others for design, balance, color and theme. The independent panel of judges looked for visual design showcasing product in an artistic and eye-catching display, and SBDS was selected for their outstanding creative efforts, including use of space, product display, placement, signage, flooring and lighting. The ambiance of the space and the brand experience was clearly exceptional," said Ms. Schlick.
In consideration of the Santa Barbara Design Studio booth, comments from the judges included, "The attention to detail is impeccable with paint, fabric and finishing that allowed the product samples to be featured in lovely picture frames, antique whitewashed tables and wall art accenting the interior walls.
The Best of Category Awards have been given out for more than 25 years within the Atlanta market center. Judges for the competition are intentionally kept confidential throughout the process. Following the judging, a winning Best of Category show space is designated from the participating entities. Criteria for the award involve a determination of outstanding visual presentation of products within the showroom or display.
About Santa Barbara Design Studio
For 27 years, Santa Barbara Design Studio, has distinguished itself in the developing, importing and manufacturing of extraordinary table top and gift product under it's "That's All," "JKC," "Hold Everything" and "Coco & Ollie" licenses among many more inventive and contemporary products. Innovation, state of the art manufacturing, and superior quality products are the trademarks of Santa Barbara Design Studio and the reason our brand is recognized as a distinctive leader in the industry.
Santa Barbara Design Studio
http://www.sb-designstudio.com