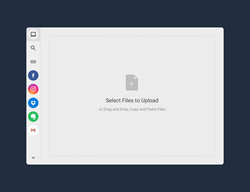 "We use the Filestack compression algorithm to resize images so they load faster," said Uri Foox, President of Zoey, a popular a SaaS based e-commerce platform. "Additionally, we've seen a 50% reduction in load time since implementing the Filestack CDN."
San Antonio, Texas (PRWEB) March 01, 2017
Today Filestack, the file uploading API used by more than 50,000 developers worldwide, announced the release of its completely redesigned embeddable file picker, built on top of an all new javascript library. These new technologies provide a foundation for additional capabilities also released today, including, accelerated uploads for large files, resumable uploads optimized for spotty mobile connections, enhanced image recognition services, and a new unlimited upload plan for high-volume customers.
These new file management capabilities come at a time when user-generated content growth is exploding. According to the latest Kleiner Perkins Internet Trends report, there are now 3.25 billion photos shared per day on the five most popular social media sites, with over 18 billion video views per day on Facebook and Snapchat alone. Uploading, transforming and delivering that quantity of user-generated content creates challenges for developers which Filestack solves.
"Nearly every app built today incorporates some form of user-generated content," said Pat Matthews, CEO of Filestack. "But there are challenges with this. Files are getting bigger. Users are storing files across many different social networks, clouds and devices. Everyone wants access and upload capabilities across any device, even on slow internet connections. These are ubiquitous challenges for all developers. We solve these file management challenges and help developers focus on what drives competitive advantage for whatever they're building."
The Industry's Most Complete File Uploading API and Redesigned File Picker Help Developers Deal with the Exponential Growth of User-Generated Content
Filestack connects to more than 25 social networks and cloud drives including Facebook, Instagram, Box, Dropbox, and Amazon. With just two lines of code, developers can integrate Filestack to provide users with powerful file uploading capabilities, the ability to crop, resize, filter, tag or otherwise transform files, and deliver that content across web and mobile with blazing-fast speed. Filestack is used by more than 50,000 developers and well-known companies like Virgin, Zenefits, Buzzfeed, and Class Dojo.
The new file picker has been completely redesigned for ease-of-use for both developers integrating the file picker into their app and end-users using it to upload content. End-users can transform images on-the fly by cropping, resizing, and applying Instagram-like filters. Developers can also programmatically manipulate and manage images, including new advanced image recognition powered by machine learning which lets developers programmatically tag images based on object or explicit content detection.
Additionally, the redesigned picker is built on top of an all new javascript library, which allows developers to fully customize the appearance and functionality of the file picker in their application.
Faster Uploads, Even On Mobile
In addition to completely redesigning the file picker interface, the Filestack backend has been redesigned to accelerate uploads of high-res images and videos. To accelerate file uploads, Filestack first divides the file up into chunks and uploads them in parallel, speeding up the upload dramatically and reducing any risk of timeouts. Second, Filestack automatically retries failed uploads that are increasingly common on spotty mobile internet connections. Third, Filestack accelerates file uploads by optionally sending the file to the closest AWS datacenter worldwide, without passing through any other infrastructure, reducing the distance files need to travel before they can be viewed on other devices. Users can also optionally upload files directly to their own S3 bucket, further reducing the distance a file has to travel. The combination of these innovations creates a fast and reliable upload experience for users.
File Resizing and Fast Downloads via CDN of 28 Worldwide Data Centers
Fast file uploads from anywhere need to be matched with lightning fast load times of those assets. Fast load times start with file compression and resizing provided by the Filestack API so that only the exact image required by the user is downloaded. Then Filestack files can be served via a Content Delivery Network (CDN), ensuring that content is always served to an end-user from the nearest of 28 data centers worldwide, decreasing page load times by as much as 50%.
"We use the Filestack compression algorithm to resize images so they load faster in a seamless way to the end user," said Uri Foox, Founder and President of Zoey, a popular a SaaS based e-commerce platform. "Additionally, we've seen a 50% reduction in load time since implementing the Filestack CDN."
Summary of New Features
With so much new coming to Filestack, here is a summary of enhancements and new capabilities available to users today:
1- Completely redesigned file picker optimized for ease-of-use for both developers and end-users. The simple, native file picker design blends seamlessly into any website or mobile app and includes a transformation UI to crop, rotate, border, and filter images upon upload.
2- New javascript library which enables complete customization of the file picker.
3- Accelerated and resumable file uploads to make working with large files on mobile connections fast and reliable. The file picker UI includes a progress bars for individual files so the user knows the status of their uploads.
4- A new unlimited plan removes image upload cap for users uploading files directly to AWS S3. The $4999 plan includes unlimited standard image and document transformations like cut, crop, resize, responsive images and convert to .doc and .pdf.
5- Machine-learing powered image tagging and explicit content detection API
Learn more at https://www.filestack.com/
About Filestack
Filestack is a developer service for file uploading in the exploding realm of user-generated content. Like APIs from other parts of the technology stack, such as Stripe and Twilio, Filestack allows software developers to integrate more than 25 of the world's leading social networks and cloud drives with just a few lines of code. End users can upload content from websites and mobile apps like Facebook, Instagram, and Dropbox or wherever that content is stored. Filestack enables developers to upload and store large files, transform and manipulate images and other file types, and deliver that content with blazing speed, responsively, across any type of desktop or mobile device. Filestack is headquartered in San Antonio, Texas and is used by more than 50,000 app developers around the world.
Media inquires
Michael Ferranti
press(at)filestack(dot)com