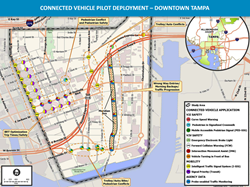 We are proud to have been selected as a OBU and V2X solution provider for the Tampa CV project, contributing to create a safer and smarter Tampa together with our partners at the THEA and Brandmotion. Tampa as a smart city is a key focus for Commsignia.
Santa Clara, CA February 28, 2017 (PRWEB) February 28, 2017
Commsignia, Inc., a leading V2X solution provider company has been selected by Brandmotion, the Tampa Hillsborough Expressway Authority's (THEA) systems' integration partner to supply its "Safer on the Road" V2X solution for the Tampa Connected Vehicle Pilot Deployment project.
Buses, streetcars and privately owned cars participating in the project will be equipped with Commsignia's cutting edge On-Board-Units (OBU) and V2X software to enable communication between vehicles, pedestrians' smartphones, and roadside infrastructure such as traffic signals & crosswalks in downtown Tampa. The pilot aims to improve safety, reduce traffic congestion and decrease emissions by focusing on six key mobility concerns of downtown Tampa:

Wrong Way Entries - safety concerns will be addressed by warnings of attempted wrong-way entries at intersections.
Pedestrian Safety - V2X solutions will be used to reduce pedestrian-vehicle incidents caused by driver's lack of attention or pedestrians taking shortcuts.
Traffic Progression Enhancement - the interaction of traffic modes will be optimized by V2X solutions to reduce congestion and pedestrian incidents.
Morning Peak Hour Queues – V2X technology equipped vehicles will assist drivers to make safe and smooth lane changes during peak hours.
TECO Trolley Conflicts - streetcar operators, bus drivers, auto drivers, and pedestrians will be provided information to reduce crashes and incidents with pedestrians near streetcar stops.
BRT Signal Priority Optimization, Trip Times and Safety - delays caused by congestion in the proximity of bus stops will be addressed by improved lane prioritization in order to optimise traffic flow.
Commsignia's "Safer on the Road" V2X solution will be showcased at the Tampa Chamber of Commerce V2X demonstration event in March to show the advantages of V2X cooperative technologies, especially in cities' traffic reduction and safety initiatives.
Commsignia is building significant traction in the automotive space in the USA, South Korea and Europe. The company recently announced a partnership with Tokyo-based Alps Electric Co., Ltd. to offer automotive-grade V2X technology. It has also successfully completed software vendor validation and certification trials of its V2X platform and applications with MTC (Mobility Transformation Center) in Michigan.
The company is starting to target smart city projects globally with its "Safer on the Road" cooperative solutions that fuse the advantages of the DSRC (Dedicated Short Range Communications) and the Cellular-V2X technologies and mobile software Apps.
"We are proud to have been selected as a OBU and V2X solution provider for the Tampa CV project, contributing to create a safer and smarter Tampa together with our partners at the THEA and Brandmotion. Tampa as a smart city is a key focus for Commsignia . Our "Safer on the Road" V2X solutions are perfectly aligned with the long-term goals of the project. Our participation in the project re-affirms Commsignia's position as one of the leading solution providers in this competitive and rapidly growing market" said Laszlo Virag, CTO of Commsignia.
"The adoption of the innovative V2X solutions of Commsignia increases safety and efficiency on the road, thus Brandmotion is glad to cooperate on the DOT smart city roll-out in Tampa alongside with Commsignia and Tampa Hillsborough Expressway Authority." – said Jeff Varick, Founder and President of Brandmotion.
"The Tampa Hillsborough Expressway Authority as a technology leader is delighted to start the Tampa CV project and later on share the results of the first DOT smart city roll-out with other cities working on improving safety and mobility, and making roadways more efficient. We believe that our steps towards enabling connectivity and data-driven decision making will result in downtown Tampa being one of the safest places in the world. Through the decreasing number of accidents and the increased presence of smarter, connected roadways that keep traffic flowing, we also expect to extend the lifespan of our existing infrastructure." – said Joseph Waggoner, Executive Director at Tampa Hillsborough Expressway Authority.
About V2X
Cars today are computers on four wheels, experiencing the world through sensors and data. Even though vehicles are becoming smarter and eventually fully autonomous, there are shortcomings in today's technology which cost lives and make everyday traffic more difficult. Commsignia provides answers to this ecosystem by enabling cooperation through Vehicle-to-Everything (V2X) wireless communication. By connecting vehicles with each other and the smart city infrastructure, it is possible to foresee an accident from miles away, alert pedestrians to danger or enable vehicles to keep up with the green wave when traveling through downtown. V2X communication is performed with various radio technologies, including 802.11p, 4G/LTE and the upcoming 5G, depending on implemented use cases, preferred standards of the geographic region and customer segment preferences as well. Commsignia is global leader in using all available technologies to meet ever increasing feature, flexibility and quality demands of the customers.
About Commsignia
Commsignia, Inc., a Silicon Valley start-up with European roots, recently closed its next investment round, which enabled the company to strengthen its presence throughout the US. The company specializes in Connected Car / V2X hardware and software solutions in the autonomous vehicle ecosystem with a mission to increase traffic safety and efficiency on the road. Dedicated to the research and development of car connectivity systems and ADAS for innovative car makers, the company aims to create the world's first connectivity platform that integrates Vehicle-to-Vehicle (V2V) and Vehicle-to-Infrastructure (V2I) applications with everyday technologies from tablets and phones to smart homes. The product line of Commsignia includes a V2X Communication Software Stack including Commsignia's own security stack implementation, Hybrid V2X/ADAS Safety Applications, a V2X Simulator, On Board Equipment (OBE) and Roadside Equipment (RSE), all developed with flexibility, reliability and security in mind. The hardware- and platform-agnostic solutions compatible with multiple Real-Time Operating Systems (RTOS) make Commsignia the most dynamic and rapidly growing V2X provider on the market. For more information, visit http://www.commsignia.com
About Tampa Hillsborough Expressway Authority (THEA)
Tampa Hillsborough Expressway Authority (THEA) is a user-financed public agency led by a Board of local citizens. Operating with no tax dollars, THEA develops and owns toll highways, including Lee Roy Selmon Expressway. THEA also owns and maintains non-tolled roads, including Brandon Parkway and Meridian Avenue, and the Selmon Greenway, a bicycle and pedestrian path through downtown Tampa. All tolls collected by THEA are reinvested into projects in Hillsborough County. For more information, visit http://www.tampa-xway.com
About Brandmotion
Brandmotion is in its 11th year of working to make vehicles safer, faster. The Southfield Michigan based company was formed in 2005 as a spin-out of Tier 1 automotive supplier Johnson Controls, with a focus on integrating and distributing emerging safety, mobility and convenience features for cars and trucks already on the road. Brandmotion is a recognized brand among aftermarket installers of 12V mobile electronics and was awarded "2016 SEMA PRO Manufacturer of the Year" honors at the 2015 SEMA Show in Las Vegas. For more information, visit http://www.brandmotion.com