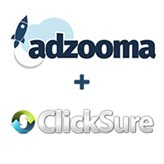 We are delighted to introduce such a simple but powerful tool to our affiliates
Nottingham, UK (PRWEB UK) 8 March 2017
Adzooma, the all-in-one digital marketing and tracking platform have today announced successfully becoming a recommended partner of Clicksure, one of the leading global performance marketing networks.
The partnership brings a brand-new tool to ClickSure affiliates allowing them to gain full insight and ability to optimise their marketing performance.
In the past, there has always been a disconnect for affiliates when sending visitors from their site to a merchants and not knowing which traffic source, ad or search term generated the sale or lead. As a result, it is almost impossible to effectively optimise traffic resulting in wasted marketing spend and negative ROI's.
ClickSure's partnership with Adzooma provides a sophisticated but easy to use tracking solution for its 460,000 affiliates to track, analyse and optimise their marketing investment and to maximise ROI's.
Adzooma offers the only tracking solution to provide full integration with the leading native advertising networks, a traffic source which has been very fruitful for ClickSure affiliates in recent months. Adzooma integrates easily with Yahoo Gemini, RevContent and Outbrain, allowing streamlined campaign management and optimisation across multiple platforms.
It also offers a host of essential features including real-time analytics & in-depth reporting, advanced traffic segmentation, A/B split testing, built-in tracking, along with optimisation tools and simple integration.
Will Haswell, Business Manager at Adzooma added 'The digital marketing arena has become increasingly competitive and expensive in recent years and as a result, it is essential that digital marketers have the required tools to ensure that they can gain maximum insight into their visitors as well as profits.
We strive to deliver a world class all-in-one digital marketing platform that allows affiliates to gain full visibility into their marketing efforts as well as to maximise their profits.
We're also excited to offer a discount on Adzooma for the first month, to all ClickSure affiliates to celebrate becoming a recommended partner.'
Ben Marshall, Communications Manager for ClickSure says 'We are delighted to introduce such a simple but powerful tool to our affiliates. In recent months we have seen a surge in native advertisers join the network as well as many affiliates crying out for an effective tool to manage all of their activity in one central location, Adzooma delivers exactly this."
To learn more about Adzooma and ClickSure visit their websites http://www.adzooma.com and http://www.clicksure.com.
About Adzooma
Adzooma is an all-in-one platform allowing you to create, scale and optimise your digital marketing campaigns using a single system.Company Information:
Adzooma: 11 Castle Quay, Castle Boulevard, Nottingham. NG7 1FW. United Kingdom