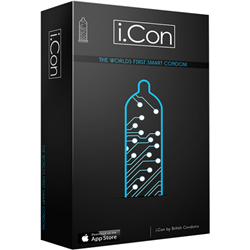 Being advocates of safe sex, we wanted something more and the addition of an STI indicator has certainly done that
Nottingham, Nottinghamshire (PRWEB UK) 28 February 2017
Last year, British Condoms announced that is has innovated a brand new form of wearable technology, a smart condom ring that'll track your performance in the bedroom. However, today it's been confirmed that the ring will not only monitor performance and various stats, but will also detect STI's such as Chlamydia and Syphilis.
Adam Leverson, Lead Engineer on the i.Con project said "It's truly a revolutionary day, not only have we innovated the worlds first Smart Condom Ring that'll measure pretty much every aspect of performance in the bedroom, but now I'm pleased to confirm that it will also have built-in indicators to alert the users to any potential STI's present".
The Smart Condom Ring will already monitor calories burnt, duration of intercourse, how many thrusts (averaged), girth measurements and various other pieces of data and by utilising Nano-Chip & Bluetooth Technology will relay the data to a smartphone app.
Aaron Slater, spokesperson for British Condoms said "We knew we were on the cusp of creating something special with i.Con and bringing a new meaning to 'wearable tech', but being advocates of safe sex, we wanted something more and the addition of an STI indicator has certainly done that. With over 96,000 pre-registrations for the product, we know that this is a complete game changer."
The move of adding an STI indicator has been praised by many and the i.Con is currently in final stages of testing before its release later this year.
British Condoms are currently taking pre-registrations for the i.Con which is open and those that register will be offered the chance to buy before the product gets launched to the general public – this can be found here.