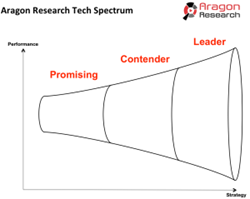 Aragon expects that the DBP market is poised to grow into a $50-billion market by 2021.
Palo Alto, California (PRWEB) March 01, 2017
Aragon Research, a technology focused research and advisory firm committed to providing thought leading strategic research and trusted advisory services, introduced its Tech Spectrum™ Market Evaluation Report for Digital Business Platforms, 2017. In the first market evaluation report of its kind, Aragon Research provides an introduction of the Digital Business Platform (DBP) market and evaluates 23 providers who are at various stages of DBP enablement.
Aragon Research predicts that by the end of 2019, 65% of enterprises will retire many legacy processes in favor of those based on the Digital Business Platform, leading to the proliferation of DBPs. This proliferation comes from the benefits that the DBP aims to provide, including business automation, faster time to revenue, and overall cost reduction. Digital transformation is about the speed of business, and the DBP will help organizations make their business activity fully digital.
"The primary driver for the rise in DBP is the need to make businesses more responsive with faster and more effective processes or applications while dealing with frequent change and increasing demands for customer-driven approaches," said Jim Sinur, VP of Research and Research Fellow at Aragon Research. "Aragon expects that the DBP market is poised to grow into a $50-billion market by 2021."
To learn more about the Digital Business Platform and the 23 providers, read the full Tech Spectrum™ report.
About Aragon Research
Aragon Research is the newest technology research and advisory firm. Aragon delivers high impact interactive research and advisory services to provide enterprises the insight they need to help them make better technology and strategy decisions. Aragon Research serves business and IT leaders and has a proven team of veteran analysts. For more information, visit https://www.aragonresearch.com.