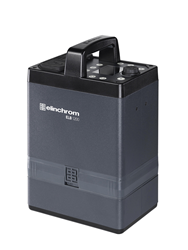 The ELB 1200 is the perfect combination of power and weight! It's extremely practical to use and has helped our team tremendously.
North White Plains, NY (PRWEB) February 28, 2017
Elinchrom is excited to announce the ELB 1200, the next evolution in battery-powered, on-location lighting. A remarkably powerful, robust and portable battery pack, the ELB 1200 will take photographers to new heights!
Portable Power
After introducing the game changing ELB 400 in 2015, Elinchrom began designing a new unit to offer more power and flexibility to action and on-location photographers. After 2 years of R&D and intense in-field testing, the ELB 1200 was born. Weighing only 9.5 lb (4.3 kg), the ELB 1200 is revolutionizing the photographic industry by allowing photographers to carry smaller, more powerful packs to any location their adventures may lead them.
Rugged Design
The ELB 1200 addresses the demands of working on location in harsh environments and has been completely re-designed to meet the needs of photographers needing a combination of performance and portability. From it's lightweight, shock resistant case to the oversized cable connections for easier operating while wearing gloves, the ELB 1200 is meant to travel anywhere an image needs to be made.
"The ELB 1200 is the perfect combination of power and weight! It's extremely practical to use and has helped our team tremendously." - Tristan Shu, world-renowned adventure photographer after his death-defying paragliding photo shoot with several ELB 1200s
Lighting For All Applications
In anticipation of the ever-increasing needs of photographers, Elinchrom is also proud to announce three new flash heads (Action, Hi-Sync, and Pro) for use with the ELB 1200. Whether if it's for all-around general use with the Pro Head, acquiring shorter flash durations with the Action Head, or using the Hi-Sync head to reach 1/8000s shutter speed, photographers not only can choose the head that best fits their application, they can also select from Elinchrom's legendary range of light-shaping tools to achieve their creative vision.
Multifaceted
Unexpected requests to capture motion or use continuous light can now be addressed with the new Action, Pro, and Hi-Sync heads. Featuring a dimmable, daylight-balanced LED modeling lamp with a CRI of 92 and an output equivalent to a 250w Halogen Lamp, these heads can help photographers get an image when the situation calls for it most.
Adventure Is Where You Find It
Current travel restrictions can be a headache for photographers, especially when Lithium-Ion Batteries are involved. Created specifically with air travel regulations in mind, Elinchrom ships the ELB 1200 with a TSA-Approved "Air" Lithium-Ion Battery that provides 215 full-power flashes and 80 minutes of continuous LED output. Additionally, when air travel regulations are not an issue, this battery can be switched for a larger capacity "HD" Version that provides 400 full power flashes and 120 mins of continuous light output. For added convenience, both batteries can be set to shipping mode when traveling over long distances and also feature a 5v USB outlet to charge low-voltage accessories.
Price and Availability
The ELB 1200 is expected in the middle of 2017. Prices are still being finalized.
Trade in, Trade up Program
Elinchrom will be introducing a rebate program towards the purchase of a new ELB 1200 for existing users of Ranger RX/Free Style. Details will be announced at a later date.
Full Specs and Press Kits
Click to download our full press kit with specs, available kits and an exclusive interview with Tristan Shu on his high-flying paragliding photo shoot in Turkey with the ELB 1200!
About Elinchrom
Since 1962, Elinchrom has been producing the world's most portable lighting gear, drawing from a heritage of more than 50 years of innovation. Based in Renens, on the shores of Lake Geneva, Switzerland, Elinchrom continues to innovate with a product range that covers every photographer's needs, from compact flash equipment to battery and power pack systems, reflectors, softboxes as well as numerious lighting accessories. Elinchrom's lighting equipment is used around the world for both studio and outdoor purposes. For more information on Elinchrom, please visit: http://www.elinchromus.com.
About MAC Group
MAC Group is a sales, marketing and distribution company dedicated to supplying photographers, videographers, educators and students with the world's finest image-making tools, education and inspiration. For more information on the MAC Group, please visit: http://www.MACgroupUS.com
For review and marketing opportunities with in the US please contact Jeff Lazell, Elinchrom's Brand Marketing Manager at their US Distributer MAC Group. Email: Jeffl(at)macgroupus(dot)com.