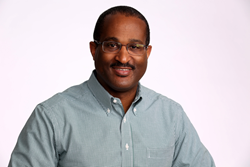 "I'm excited to help monetize a differentiated solution that allows marketers, agencies, and media firms to leverage deterministic social audience insights in limitless ways across all marketing touchpoints."
NEW YORK, NEW YORK (PRWEB) March 01, 2017
StatSocial, a leader in uniquely social audience insights for marketers, agencies, and media sellers, is pleased to announce the appointment of Dwight Green as President. Over the last decade, Dwight has leveraged a strong engineering and technical foundation coupled with a deep understanding of a broad array of data-driven business models to innovate and monetize impactful solutions.
Starting in 2005, at 24/7 Media (now part of WPP/Xaxis), Dwight pioneered matching household-level Acxiom Personicx segmentation codes with digital cookie IDs, by partnering with onboarding and other essential partners to drive targeted ad-network campaigns for major advertisers. Soon after, he launched and oversaw Nielsen's monetization of their PRIZM segmentation and other offline consumer data insights across digital platforms during ad-tech's early days. More recently, Dwight led development of digital marketing solutions at Datamyx (now part of Deluxe Corporation) that enabled financial-services clients to reach their best consumer prospects via major digital platforms. During this decade-long period, he also provided strategic guidance to major data and analytics providers that were initiating monetization of their digital marketing solutions.
Dwight began his career as a software-systems engineer at Northrop Grumman. After graduate school he transitioned to working with data-driven marketing pioneers, including Venture Development Center and VNU (now Nielsen). Over the past 25 years, Dwight has served the roles of general manager, product leadership, strategy and investment executive, at companies including WPP's Kantar Media and Sumitomo Corporation's media and technology group. He also has co-founded and led several entrepreneurial ventures.
Commenting on the appointment, Michael Hussey, StatSocial's CEO said "We're in hyper-growth mode and needed executive leadership with deep industry knowledge to ensure we take full advantage of the opportunity before us. Our team couldn't be more excited and proud to have Dwight join at this critical time."
Outlining the value of StatSocial's unique offering, Dwight stated, "I'm excited to help monetize a differentiated solution that allows marketers, agencies, and media firms to leverage deterministic social audience insights in limitless ways across all marketing touchpoints."
Dwight earned an engineering degree from Princeton University and an MBA from the University of Pennsylvania's Wharton Business School.
--
About StatSocial
StatSocial's data and analytical insights enable digital marketers and media sellers to identify and reach the best consumer prospects, maximize CRM audience value and measure marketing campaign effectiveness by leveraging uniquely social audience insights at scale that are not modeled, but derived at the individual deterministic level.
StatSocial's client solutions are based on over a decade of expertise in deeply analyzing and interpreting continuously and rapidly evolving social insights from social media platforms while adhering to essential privacy principles. Profiles are built upon a taxonomy of over 43,000 segments (brand affinities, interests, tv shows, influencers, and personality types) and linked to over 300mm unique consumers covering 70% of US households. Clients use the insights to optimize consumer value across all marketing touch points.