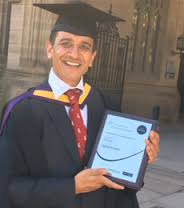 This was the pinnacle of my career and this means so much to me, as the award was bestowed by eminent clinicians at the University
(PRWEB UK) 3 March 2017
Dr. Minesh Patel, 54, from Bedford was awarded the highest mark for the complex clinical case in the final case in the Masters program in Restorative and Aesthetic dentistry at Manchester University. The award is bestowed upon a dentist, which shows the highest degree of complex restorative skill. It was won by Dr. Patel on the 15th of July 2016, who beat off over sixty other candidates to win the award.
The sixty entries for this award was by very skilled and experienced dentists in Restorative dentistry from throughout the world including, Australia, India, Netherlands, Kenya, Brazil, Dubai and Canada. This also included a large number of entrants from the UK. To win the highest mark, Dr Minesh Patel presented a complex bridge case, which replace almost all the upper front teeth and included complex gum surgery and root canal treatments.
Dr Minesh Patel commented, "This was the pinnacle of my career and this means so much to me, as the award was bestowed by eminent clinicians at the University. This was a total surprise as there was so much competition. The best thing also was that my family were all there to see me receive this award."
The case also exhibited large white fillings, and crowns on back teeth. Dr. Patel's winning case took eighty to ninety pages of detailed presentation and took over a year to complete. This made his stand out from the other candidates, and win the award for his practice and British dentistry, reinforcing it as one of the best places to practice dentistry in the world.
Manchester University, who awarded the qualification to Dr. Minesh Patel, is a long-established centre for teaching and researching dentistry in the UK. To enter the program, candidates had to pay fees of over £20,000 and were required to provide evidence of a primary dental qualification from a recognised institution, as well as have two years experience in general professional practice.
Dr Minesh Patel has been a vocational trainer for seventeen years and also a principal dentist at Chrysalis Dental Centre for twenty seven years. He has now also accepted a position in February 2017 as Course director for Restorative dentistry at the prestigious Warwick University. To find out more about Dr. Minesh Patel or to book a consultation with him at Chrysalis visit the Chrysalis Dental Practice website.