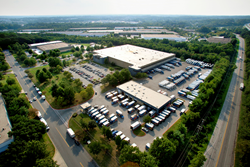 Savage, Maryland (PRWEB) March 01, 2017
Cambridge Property Group LLC is pleased to have represented The Coastal Companies ("Coastal") in the subleasing of its former facility at 8704 Bollman Place in Savage, MD. The recently executed sublease with Freshly, Inc. is the culmination of several years of work on behalf of Coastal. Cambridge began working with Coastal in 2013 and served as its Leasing Representative and Development Manager in its search for a new facility. The search resulted in the recent completion of a new 330,000 square foot, state-of-the-art distribution and headquarters facility in Laurel, MD.
The sublease with Freshly, Inc., represents the latest phase in the project for Coastal. Freshly, Inc. is a ready-to-eat meal company which offers convenient, healthy and sustainable prepared meals on demand. The company found value in the facility that was originally developed in 1984 for Marriott Corporation. The facility is well-equipped with the latest technology, including temperature/humidity controlled coolers regulated to the individual product needs, as well as production areas, climate-controlled loading docks and executive office areas. Further, the property is well positioned to service national and international clientele with proximate access to the Port of Baltimore, I-95 and three major airports. The project is also located within a one-day truck drive of 40% of the United States population.
"It's been a pleasure to work with The Coastal Companies over the past several years and we are very thrilled with the results of the subleasing efforts on their behalf," commented Benjamin R. Eldridge, Jr., Executive Vice President of Cambridge Property Group LLC. "It was truly a team effort and Cambridge looks forward to its continued relationship with Coastal."
Cambridge's efforts were led by Benjamin R. Eldridge, Jr., T. Michael Scott, Ingo Mayr, CCIM, and Katherine Czekaj Freehof.
Cambridge provides real estate services to institutions, investment partnerships and individual owners to comprehensively address the challenges of today's real estate market. Since 1983, Cambridge and its subsidiaries have successfully developed over 6.2 million square feet and structured the acquisition and/or disposition in excess of 20 million square feet of commercial real estate and 465 acres of land with a total value exceeding $6.2 billion. In addition, Cambridge has been instrumental in the restructure of approximately $1.5 billion of CMBS and institutional debt on behalf of clients and partners. The firm also provides property management, leasing and construction management services to approximately 4.2 million square feet of office, R&D and industrial space.