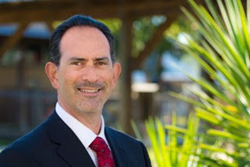 It's a great honor to join Lemonade Day as its president and be part of an organization focused on teaching business and entrepreneurial skills to children.
Houston, Texas (PRWEB) February 28, 2017
Lemonade Day proudly announces that Steven Gordon has been named as its new president. Gordon brings with him more than 30 years of start-up and business experience making him the perfect choice to lead an organization focused on teaching entrepreneurship to youth.
"It's a great honor to join Lemonade Day as its president and be part of an organization focused on teaching business and entrepreneurial skills to children," Gordon said. "Lemonade Day helps kids learn the basics of entrepreneurship and finance in a fun, experiential way, empowering them with the tools to create their own opportunities. My goals are to build on the existing curriculum, seek and involve national sponsors and donors, add additional cities to our program, and continue supporting current communities to reach more children."
Gordon's entrepreneurial spirit began at the young age of 12 after his family immigrated to the United States from South Africa. The family had limited resources and as the oldest of three children, he wanted to find a way to help. He began with mowing lawns and painting homes, and quickly realized he could make more money with additional jobs. Gordon loved being his own boss, a sentiment that has stayed with him throughout his professional career.
Prior to joining Lemonade Day, Gordon was involved in a start-up company focused on creating consumer products to protect children. Before that, he was Principal at Gordon Group Design, a company he founded to provide guidance and expertise in design and construction for the retail industry. Gordon also served as President of the Greater Houston South franchise of the Certified Restoration Dry Cleaning Network's (CRDN), an international organization of textile restoration experts serving the insurance industry, contractors/contents cleaning companies, and property owners. Simultaneously, he also served as Vice President of Store Planning, Design and Construction for Al's Formal Wear, a privately held Houston-based corporation with six business divisions in seven States and over 500 employees. In this position, he was accountable for all store planning, design and construction.
An active member of the Houston community, especially in helping children, Gordon is the President of the Board of Trustees for the Parish School, a nonprofit school that educates children 2-12 years with communication delays and learning differences.
ABOUT LEMONADE DAY:
Lemonade Day is a nonprofit dedicated to teaching every child across North America the business and financial skills that are the key ingredients of entrepreneurship. By learning these skills early in life, children will be better prepared to be successful, financially healthy adults. Through our fun, hands-on program Kids K-5 are empowered to start their very own business—a lemonade stand—and experience the feeling of earning real money, using 100% of their profit to spend, save and share based on their own goals.
Visit http://www.LemonadeDay.org to learn how to participate in Lemonade Day in your city.