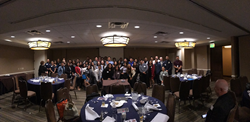 "The work of Elevate Phoenix is helping transform our education system and our community, thus we hope to expand the program to other Phoenix Union schools soon." Chad E. Gestson, Ed.D. Superintendent.
Phoenix, AZ (PRWEB) March 14, 2017
"We are extremely grateful for the grant of $10,000 for Elevate Phoenix's "Discover Your Future": Education, Mentoring and Relationships Program, which was submitted in response to the My Brother's Keeper Community Challenge through ACF's grant cycle. We are so honored for this gift that will help improve the academic success, lives and futures of at-risk, inner city youth in our community.
"The funds will be used to help Elevate Phoenix provide 750 mentoring hours to teach curriculum to high school students, conduct tutoring, teach high school students to be peer mentors, reduce dropout rates, prepare juniors and seniors to transition to post-secondary education, and provide other support to help students succeed. Our teacher-mentors will conduct all of these activities, working within and outside the classroom. They also will be available to the students 24/7 to help them with a problem at school, a bully, or any other issue. Through the program, Elevate Phoenix also will conduct career instruction/post-secondary preparation, life skills and peer leadership development, and community service and adventure activities with the students.
"This gift will truly change lives and give at-risk, inner-city youth not only hope for a brighter future, but the help they need to get there. Thank you, again, for your kind grant. We appreciate the Arizona Community Foundation and all that you do to benefit youth in our community. The support we have been receiving helps our mission and goals. "The work of Elevate Phoenix is helping transform our education system and our community, thus we hope to expand the program to other Phoenix Union schools soon. Please know that your support of Elevate Phoenix ensures our ability to continue to dramatically impact opportunities and success for youth." Chad E. Gestson, Ed.D. Superintendent.
Elevate Phoenix's mission is, "Delivering long-term, life-changing relationships with urban youth for civic impact." Each year, Elevate Phoenix assists nearly 5,000 low-income, at-risk, disconnected youth through accredited academic instruction, mentoring and one-on-one relationships with adults so that they want to stay in school, achieve at a high level, graduate, matriculate to post-secondary education and prepare for a successful career. Its programs include its Reading Program, which is dramatically improving the literacy skills of thousands of students in Grades 2-12 through its reading curriculum, peer teaching, and providing students with free 24/7 access to 8,000+ e-books; the Discover Your Future Program, which helps at-risk students in Grades K-12 stay in school, graduate, and enroll in post-secondary education by teaching curriculum and providing them with teacher-mentors to assist and encourage them; and the R.I.S.E. (Relationships. Instruction. Support. Equipping.) Program, which improves students' academic development; keeps at-risk students in school through graduation; helps them find their first job, and helps them enroll, and succeed, in post-secondary education.
A full 85% of students come from low- to moderate-income families, based on the Area Median Income, as a percentage of the Federal Poverty Level and the number of students who qualify for the Federal Free or Reduced Lunch Program. The typical Elevate Phoenix student is someone who wants a better future, but circumstances make it difficult to envision. They see their parents and other adults who are weary from poverty and the daily struggle of going to a low-paying job with no opportunities for advancement. Many have at least one incarcerated parent, while others live in foster homes or single-parent homes. They live in neighborhoods where drugs and gangs are prevalent. On their way to school, they walk past friends who dropped out and try to convince them to do the same. They hear, "Why are you wasting your time? Skip school and hang with us." They are ridiculed for doing the right thing by turning down offers of drugs and joining a gang. Yet, these students are beating the odds because Elevate Phoenix gives them the mentors, programs and support they need to succeed in school, graduate, go on to post-secondary education, and prepare for, find, and maintain a job so they can break the cycle of poverty and have a better future.
Elevate Phoenix's recent accomplishments included:

Serving 4,861 unduplicated students – nearly 1,000 more than last year. Some of the numbers in the bullets below represents students served by more than one of our programs.
Working in schools in four school districts: Phoenix Union HS District, Creighton District, Roosevelt District, and the Maricopa County Community College District
Assisting 1,460 high school students through our Discover Your Future Program, including providing daily classroom / mentoring programming, tutoring, lunch program, college post-secondary preparation groups, community service projects, camps and student events.
Serving 1,592 students through our K-8 mentoring programming.
Assisting 2,956 students through our K-12 reading and literacy program.
Serving 450 students in Grades 2-8 through our Summer School Program plus another 150 students served in our summer reading and activity programs that begin with the Summer School Program.
Serving 160 young adults through our R.I.S.E. (Relationships. Instruction. Support. Equipping.) college bridge and mentoring programs.